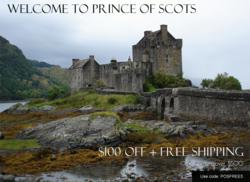 "Home of the most comfortable boxers in the world"
Southampton, New York (PRWEB) July 27, 2011
Luxury has a new address and it resides at Prince of Scots. The company has launched a new website catering to clientele looking for unique gifts or apparel. Shoppers will step into an on-line boutique to indulge in Prince of Scots Exclusives from Ermenegildo Zegna, Iona Crawford, Thompson of London, John G. Hardy, Patricia Brown, Sabina Les, and the introduction of the company's proprietary brand.
"Prince of Scots goal is to bring fresh new products which are new to the American Market" said David Campana, E-Commerce Director, "we have searched the globe for products and designers which are the trend setters of tomorrow".
Iona Crawford, a Vogue Premier Designer and Scottish Fashion Awards Nominee, will be offered for the first time in the North America. Crawford Farquhar Dress was a show favorite on the Dressed to Kilt runway in NYC. Sabina Les Scarves, which have graced the fashion editorial pages of Elle, and Patricia Brown Jewelry, complete the women's stock.
The men's collections include cufflinks from London, ties, scarves, and handmade luggage from Italy. Clients can custom make belts to create a personal vision of style. Each belt detail can be customized right down to the color of the stitch. A best value in America is the Alligator belt at only $495.
Boxers and Swim trunks from McAlson of Belgium have been the most popular items in the first few days since the launch according to Tim Danser, President at Prince of Scots. "Guys are always looking for comfort. The lifetime search for the perfect pair of underwear is over". The boxers are the most comfortable boxer in the world and debuts on the site.
A fashion industry first and true gift of luxury is the Ermenegildo Zegna ~Baby~, Made in Italy, 100% cashmere baby blanket. Zegna known worldwide for finest fabrics has reached a new milestone with this perfect gift for baby. The first trip home from the hospital will never be the same. Shoppers can bask in the warmth and comfort of Ermenegildo Zegna Cashmere/Linen throws for the homes which are $295 for Italian luxury.
Prince of Scots is offering $25 Gift for customers "like" on Facebook and signing up for an account on PrinceofScots.Com. Enter FBFAV in code key to receive the introductory gift with no minimum purchase required. A Prince of Scots account will create access to new designers, new products, and bonus offers. Merchandise is limited or custom made so collections will change frequently. Free shipping is always available on orders $200 or more.
The Southampton Luxury Brand will open a store location in Southampton Village Fall 2011.
About Prince of Scots
Prince of Scots is an exceptional designer, manufacturer, and retailer of top quality consumer products. The company offers a vast global network of sourcing, manufacturing and distribution through strategic partnerships. Our "Ultimate Goal" is be Best in Class in everything we do.
About Tim Danser
A Fashion Industry Executive skilled in creating "The Next Big Idea." While a student at West Virginia University, Danser created the schools first pin up calendar, Faces of WVU. Danser has been credited with many "first" in the industry including "Why Rent When You Can Own Tuxedo" at JCPenney and "Dad Wants Free Gasoline" at Sears.
Singular product innovations include the world's first machine wash/tumble dry suit with JCPenney and the world's first Eco suit at Sears. While serving as Interim President and Vice-President of Marketing at Bagir International, Danser was successful at turning the company around, launching Simon Carter in North America and creating Red Carpet Brands.
Today, Danser brings a new global source of supply, a new business strategy to keep businesses competitive, and new designers/ talent which create reasons to buy.
###