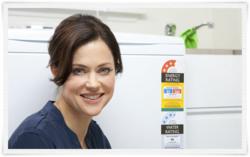 Auckland, New Zealand (PRWEB) July 27, 2011
Persil has announced a commitment to achieve a 50% reduction in energy usage across the entire lifecycle of Persil products by 2020. The goal is part of Persil's Cleaner Planet Plan, which is working towards reducing the environmental impact of its laundry products from raw materials sourcing through to consumer use and disposal.
The Cleaner Planet Plan is being fronted by well-known Kiwi mum Greer Robson-Kirk, who is encouraging New Zealanders to make some small changes in the laundry to create big change.
Robson-Kirk says, "It's been interesting for me to learn that New Zealanders do around 390 million loads of laundry every year. That's 390 million opportunities to take small steps at home to save water, energy and packaging that can mean a big difference for the planet. "
In order to improve energy efficiency, Persil is encouraging households to wash full loads in cold water, which helps save power, because most of the energy used in washing clothes is for heating the water.
Using a short or eco cycle will give further energy savings while still delivering brilliant results, particularly when using Persil Small & Mighty with built-in pre-treaters, which is specifically designed to be tough on stains.
"As a busy mum I know that the key when you're doing your laundry is results! The great thing for me is knowing I can make some small changes like doing full loads on the short cycle in cold water, without compromising on wash performance. Persil gets my family's clothes clean, while treading lighter on the planet."
Every small step you take in the laundry can make a big difference when it comes to saving energy. Visit http://www.cleanerplanetplan.co.nz for more tips on energy efficiency and information about Persil's Cleaner Planet Plan.
###