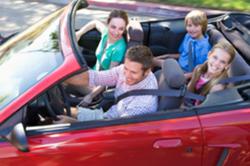 Puma Applied Science wants to help travelers enjoy their vacation activities to the fullest.
Winchester, CA (PRWEB) July 27, 2011
Many vacations trips this summer will be ruined by the unpleasant symptoms of travel sickness. This is the prime season for vacations and day trips. Individuals and families all over the world are driving, flying or cruising to vacation destinations. They are also taking short day trips to go boating, see local sights or to enjoy the fun of an amusement park. Unfortunately, a number of these people will unexpectedly experience the queasiness, dizziness or nausea of motion sickness that can definitely spoil their trip.
Puma Applied Science wants to help travelers avoid airsickness or other types of motion sickness so they can enjoy their vacation activities to the fullest. To do this they feel travelers should be aware of the many treatment products currently available to prevent or relieve the symptoms of motion sickness. Treatments vary greatly, however, and it may be difficult to know which is the right one to choose. So, to help potential travelers make a good choice, Puma Applied Science has recently made available an informative comparison chart of all major motion sickness treatments on their website, pumamethod.com.
The comparison chart includes drugs, such scopolamine; devices, primarily acupressure bands; as well as more natural treatments, like ginger and habituation exercises. Some of these treatments, such as the Puma Method, actually prevent motion sickness while others just treat the symptoms when they occur. The chart provides this information and much more.
Potential travelers are also able to compare the effectiveness, safety and cost of the listed treatments, as well as the mechanism of action, that is, what makes the treatment work. But, perhaps the most important information available on the chart is the list of possible side effects that might be experienced when using each treatment product. Individual sensitivity, especially to drugs, may vary. So, it is important to be aware of all potential side effects when considering which product to choose. Interestingly, some of the products that have no known side effects are also the ones listed as most effective.
Information contained in the comparison chart was gathered from numerous sources, often directly from the manufacturers' websites. Claims from manufacturers were compared to information about the product from reputable medical and pharmacy sources. Puma Applied Science believes the information in the comparison chart is accurate to the best of their knowledge.
Individuals and families planning to travel this summer should be aware of the potential for travel sickness. Fortunately there are many alternatives to prevent motion sickness entirely or treat the symptoms when they occur. Those travelers who are prepared ahead of time with information found in the comparison chart for treatment of motion sickness can be assured of a vacation free of any travel sickness. For more information on the causes and prevention of motion sickness visit pumamethod.com.
Founded in 1995, Puma Applied Science is a privately held research and development company specializing in aerospace medical concerns, human factors, and life support systems.
The company introduced the Puma Method for Prevention of Motion Sickness in 2003. Other projects under development are a high acceleration aircraft to gather data on gravity-induced loss of consciousness and an associated sensor, and a hands free computer interface for persons with disabilities.
###