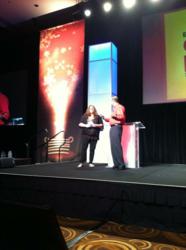 Jennifer is a natural leader who has contributed greatly to the growth of our operation and our employees.
Los Angeles, CA (PRWEB) July 27, 2011
Edible Arrangements manager Jennifer Satzman, trained by motivational speaker Scott Greenberg, wins "Manager of the Year" award from Edible Arrangements corporate headquarters. Though the Edible Arrangements business has been franchised for ten years, this is the first year the "Manager of the Year" award was presented. Out of 1057 stores in 12 countries, Satzman was awarded this individual honor at the Edible Arrangements franchisee convention in Las Vegas on July 24th, 2011.
The "Manager of the Year" award accepted by Satzman came one year after the same franchise won the Edible Arrangements "Best Customer Service" award. Satzman was trained and coached by franchise owner and motivational corporate speaker Scott Greenberg. Greenberg trained Satzman with the same methods he speaks on as a franchise business speaker and management expert.
"I'm extremely proud of Jennifer for her accomplishments, but not at all surprised," says Scott Greenberg. "She is a natural leader who has contributed greatly to the growth of our operation and our employees. Jennifer is an ethical, hardworking employee who greatly deserves this honor."
Greenberg and Satzman have used the Edible Arrangements franchise to refine management and customer service techniques for Greenberg's motivational business programs. According to Greenberg, "Running a retail store has been a great way for us to experiment with innovative leadership methods. It's given us a unique opportunity to refine our management techniques. This award really validates Jennifer's efforts and her commitment in executing and perfecting those techniques."
Satzman has been working with Greenberg since 2006. Prior to that time, she worked as a preschool teacher and floral shop designer in the Los Angeles area.
For more information about the Los Angeles-based Edible Arrangements store, call 1-818-785-5202 or for information on franchise owner and motivational business speaker Scott Greenberg, visit the website at http://www.scottgreenberg.com.
About Scott Greenberg
Greenberg is a professional motivational speaker specializing in resilience, peak performance, and emotional intelligence. His personal battle with cancer and inspiration from his "Schindler's List" holocaust surviving Grandmother are the basis for some of his motivational stories. Since 1993, Scott has spoken to a variety of organizations looking to improve their leadership, customer service and work environment. Clients include Nike, Cargill International, the United Nations and the U.S. Department of the Interior. Scott has written three books on leadership and is a contributing author to "Chicken Soup for the College Soul." For more information about Scott Greenberg, visit http://www.scottgreenberg.com or call 1-800-450-0432 (or outside the U.S. 1-818-785-5202).
About Edible Arrangements®
CEO Tariq Farid launched Edible Arrangements® with his brother, COO Kamran Farid, in 1999 in East Haven, CT, after years in the floral industry. Edible Arrangements International, Inc. is the leading purveyor of fresh fruit arrangements perfect for everyday occasions and special events. Stores are located in the United States, Canada, Puerto Rico, the Middle East, Italy, India and Hong Kong.
# # #