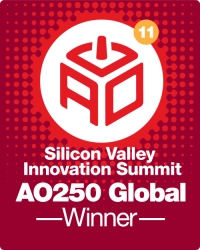 Infineta Systems Recognized Among Thousands of Companies for 2011 Technology Innovation
San Jose, CA (PRWEB) July 26, 2011
Infineta Systems, a provider of Hyper-scale WAN optimization systems, today announced that it has been named an AlwaysOn Global 250 winner for 2011. The AlwaysOn Global 250 recognizes technology vendors with game-changing approaches and technologies that are likely to disrupt existing markets and entrenched players in technology hubs around the world. Infineta was selected by the AlwaysOn editorial team and industry experts from around the world for its innovation, market potential, commercialization, stakeholder value, and media buzz.
Infineta Systems is the first networking company to develop and market commercial WAN optimization systems that accelerate, inter-data center WANs running at up to 10Gbps wire speeds. Powered by the Velocity Dedupe Engine™, the Infineta Data Mobility Switch (DMS) delivers unrivaled levels of throughput and scalability, serving as a critical building block for enterprises grappling with workflows native to Hyper-scale WANs, such as replication and backup, Big Data transfers, and cross-site virtualization initiatives.
"We are honored and delighted to receive this distinguished award from AlwaysOn," states Raj Kanaya, co-founder/CEO, Infineta Systems. "Infineta is among a very select group of emerging companies recognized as innovators and leaders in their respective fields and we are proud to join the AO250 2011 list."
According to Tony Perkins, founder and editor of AlwaysOn, "This year's winners clearly represent some of the highest-growth opportunities we've seen in the private company marketplace in the history of the global Silicon Valley." The AlwaysOn Global 250 winners were selected from among thousands of domestic and international technology companies nominated by investors, bankers, journalists, and industry insiders. The AlwaysOn editorial team conducted a rigorous three-month selection process to finalize the 2011 list. A full list of all the AlwaysOn Global 250 winners can be found on the AlwaysOn website at: http://www.aonetwork.com/AOStory/Announcing-2011-AlwaysOn-Global-250
Infineta Systems will be honored at AlwaysOn's ninth annual Innovation Summit on July 28th, 2011, to be held at the Louis B. Mayer Theatre at Santa Clara University in Santa Clara, CA. This two-day executive gathering highlights the significant economic, political, and commercial trends affecting the global technology industries. Innovation Summit's goal is to identify the most promising entrepreneurial opportunities and investments in the global tech industry.
About Infineta Systems
Based in San Jose, California, Infineta Systems is a privately-held provider of Hyper-scale WAN optimization systems. The company's patent-pending Velocity Dedupe Engine™ delivers unprecedented levels of throughput, scalability and bandwidth capacity to support critical machine-scale workflows across the data center interconnect. Its flagship product, the Infineta Data Mobility Switch, accelerates multi-gigabit BCDR (business continuity/disaster recovery), cross-site virtualization, and Big Data traffic. The company is backed by Rembrandt Venture Partners, Alloy Ventures and North Bridge Venture Partners. For more information, visit http://www.infineta.com.
Infineta, Infineta Systems, Data Mobility Switch, and Velocity Dedupe Engine are trademarks or registered trademarks of Infineta Systems, Inc., in the U.S. All other product and company names herein may be trademarks of their respective owners.
About AlwaysOn
AlwaysOn is the leading business media brand networking the Global Silicon Valley. AlwaysOn helped ignite the social media revolution in early 2003 when it launched the AlwaysOn network. In 2004, it became the first media brand to socially network its online readers and event attendees. AlwaysOn's preeminent executive event series includes the Innovation Summit, OnMedia, OnHollywood, Venture Summit Mid-Atlantic / IMPACT 2011, OnDemand, Venture Summit Silicon Valley, Venture Summit East, GoingGreen Silicon Valley, and GoingGreen East. The AlwaysOn network and live event series continue to lead the industry by empowering its readers, event participants, sponsors, and advertisers like no other media brand.
###