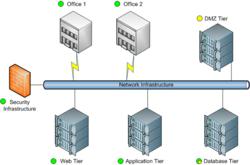 Simple, affordable monitoring from the Cloud
Frisco, Texas (PRWEB) July 27, 2011
The new Phixios ICMP Monitoring service makes basic monitoring of network and server infrastructure affordable for small and medium size businesses. An ICMP (Ping) only offering has been added as a result of a market study indicating the demand for a low cost, entry level service. With this new service comes an easy path for clients to migrate to the next stage which is the full Event Monitoring of Applications, Servers and Network Infrastructure. This "go as you grow" approach allows clients to start with basic functionality, then advance seamlessly into full monitoring capability.
Both the Phixios ICMP Monitoring and Full Monitoring offerings are cloud services providing Software as a Service (SaaS). Customers can start monitoring their devices within 24 hours of a completed request for either service. The services are elastic as it can grow and shrink as required by the customer and their business cycle. For example, schools supported by the Phixios service can reduce their operating expenses by removing the devices that support the schools during the summer break, while continuing to monitor district offices that require year round monitoring.
The Phixios website provides more details about the ICMP Monitoring and Full Monitoring services as well as contact information to request a personal demonstration or a quote.
###