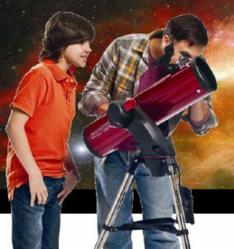 SkyProdigy and StarSense technology redefines how users can view the universe.
(PRWEB) July 27, 2011
The annual Consumer Electronics Show in Las Vegas is always a big event where the newest and most innovative products are brought out to showcase to the world. While astronomy gear companies make up a very small portion of the exhibitors, Celestron, the company that brought the world the amazing SkyScout, is always there pushing the boundaries of innovative technical applications for our most favorite of hobbies. This year is no exception.
Introducing, the Celestron SKYProdigy Telescope Series
Winner of 2011 CES Innovations Honoree Award for Design and Engineering Excellence at CES 2011, the Celestron SKYProdigy series of telescopes will align themselves- in just three minutes! That's right, three minutes, and what's more, suggested retail is about $700.
The SkyProdigy features patent pending StarSense™ Technology, which provides a dramatic evolution in telescope alignment technology. Unlike most other telescopes which require a user to select and manually center known stars in the telescope to align it, StarSense makes the aligning process easier and faster. With StarSense users turn on the SkyProdigy, push a button and are ready to view the universe in less than three minutes.
With an aligning process of three minutes, the SkyProdigy is the fastest automatically aligning telescope on the market today.
"StarSense completely circumvents the frustrating alignment process of current 'Go-To' telescopes by allowing the telescope to automatically align itself without any user intervention whatsoever once it is turned on," said Joseph A. Lupica Jr, president and CEO of Celestron. "Our SkyProdigy and StarSense technology redefines how users can view the universe. For the last 50 years, Celestron has been the world's leading telescope manufacturer. We've developed industry-changing products such as Sky Scout Personal Planetarium and the SkyProdigy is further evidence of our continued commitment to being the world's leading telescope maker."
Additionally, the SkyProdigy includes a "Sky Tour" feature which automatically moves the telescope to the best astronomical objects currently visible at that time.
###