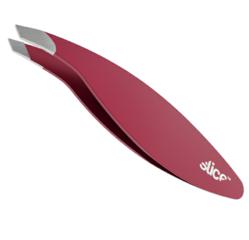 Mr. Graves has created timeless designs for some of the largest brands in the world.
San Francisco, CA (PRWEB) July 27, 2011
Slice™, Inc., announces a line of new beauty tools designed by award-winning architect and famed designer Michael Graves. Created for both professional and consumer use, the products will debut at CosmoProf North America, one of the largest beauty-care shows in the world, from July 31 through August 2 in Las Vegas.
"Mr. Graves has created timeless designs for some of the largest brands in the world," says Mr. TJ Scimone, CEO of Slice. "He is a master at bringing function and style to everyday objects – which is exactly why Slice commissioned him to create these elegant new beauty tools."
The initial 12 designs are the result of a 2-year collaboration between Slice and Mr. Graves, and include six different models of precision tweezers, nail scissors, cuticle scissors, fingernail clippers, toenail clippers, a ceramic nail file, and cosmetic pencil sharpener.
Based on the concept of river stones, the products are extremely comfortable to use and hold in the hand and feature advanced materials such as ceramics, DuPont™ Hytrel™ and German blades. MSRPs range from $9.99 to $19.99.
The products will be sold to professional beauty supply stores, salons, and retailers worldwide, and via http://www.sliceproducts.com. Six styles of tweezers and the cosmetic pencil sharpener are now available and shipping, with the balance of products shipping first quarter 2012. Slice will debut the entire new line at CosmoProf North America, booth D2074.
Slice, Inc. manufactures an award-winning collection of designer cutting tools for home, school, office and industry. Founded in 2008 by TJ Scimone as a way to help fund long-term care for his son, Alex, who is Autistic, Slice donates a minimum 1% of all sales to help fund Autism research.
Contact:
Media(at)sliceproducts(dot)com
408.370.6050 voice
###