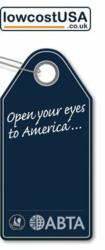 The company are going to be giving away a holiday to Las Vegas to one lucky winner when the Low Cost USA fan page reaches 5,000 likes.
(PRWEB) July 26, 2011
LowcostUSA.co.uk, the UK-based travel agency, is launching their second Facebook fan page holiday giveaway competition following the success of their initial competition that completed this last month.
The company is going to be giving away a holiday to Las Vegas to one lucky winner when the Low Cost USA fan page reaches 5,000 likes. The competition is due to start at the beginning of August.
This is just one of many examples in which the travel industry has embraced social media as a marketing channel. Social media expert, Martin Palmer, says:
"Social media is an excellent channel for our company because it allows us to communicate personally with our customers. Analysts suggest that an average consumer interacts with a brand seven times before they make a purchase and Facebook is a non-intrusive way of staying in touch with our valued customers."
In return for liking the Low cost USA fan page, fans will have access to exclusive special offers and are added to the draw for a Las Vegas holiday giveaway.
Social media as a channel has exploded over the past few years because it is a very cost efficient way of achieving brand awareness. With the advent of Facebook and other social media sites brands can leverage the social network of each prospect without any additional cost; effectively lowering the cost per acquisition. Martin Palmer explains further:
"We are embracing social media because we feel that it's one of the best channels to nurture repeat business and to create a chain of loyal followers. As a travel company, we know that we provide highly competitive and attractive holiday packages for UK holidaymakers and we're starting to see our own customers spread the word to their network through Facebook."
Facebook, as a platform, now has a user base of well over 750 million with more than 50% of the registered users logging in on any given day. It is the undoubtedly the current power house of social media.
Despite this, Google has started to muscle into this space with their own social network, Google +. Following its launch on 28th June, Google + has reportedly reached in excess of 20 million users making it the 65th biggest social network platform. Sceptics say that Google + is counter-intuitive and lacks any real advantage over Facebook; time will tell if Google + can be a real challenge to Facebook.
###