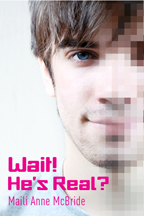 I absolutely love this story!
San Clemente, CA (PRWEB) July 27, 2011
Wattpad is the world's most popular eReading community. Every day, millions of readers visit Wattpad to discover new stories and interact with professional and aspiring authors.
The numbers are astounding. Wattpad users spend over 1 billion minutes on Wattpad every quarter and download Wattpad apps over 1 million times per month.
One of these books is WAIT! HE'S REAL? written by Maili McBride, an 18-year-old college student who based her novel on events from her own life. In this story, Avery Quinn loses a bet to get a boyfriend by the end of the summer—so she creates one on Facebook. As events unfold, she discovers that he is real and moving to her hometown.
To date, WAIT! HE'S REAL? has amassed a total of 910,000 reads and nearly 4,000 comments. The entire book is also available to read for free on Wattpad apps and Wattpad.com.
WAIT! HE'S REAL? will be released September 1 by Sourced Media Books in paperback and eBook formats. It will be available online and in bookstores nationwide.
With millions of readers coming to the site each day, is Wattpad going to revolutionize the book industry like YouTube has revolutionized music and television?
About the Publisher
Sourced Media Books is a progressive publishing house specializing in books that reach across multiple media platforms. Sourced Media Books has a broad client, customer, and relationship network that includes organizations such as Deloitte and Touche, Jostens, America's Junior Miss, the Osmond Family, and the Utah Attorney General's Office. Sourced Media Books is noted especially for its superior product, speed of production, and seamless integration of traditional and digital formats.
About Wattpad
Wattpad is a new form of entertainment where readers and writers interact, share content, and tell stories across text, video, images, and through the conversations they engage in on Wattpad apps and online. Wattpad is a personal eReading experience that allows readers to engage across all levels of a storytelling. Writers can share what they have written on Wattpad (e.g., a novel, a short story, or a poem) with readers and fans from around the globe at wattpad.com and through apps available for over 1,000 different mobile devices, including iPhone/iPad, Google Android, Windows Phone 7, Nokia, BlackBerry, and Samsung.
###