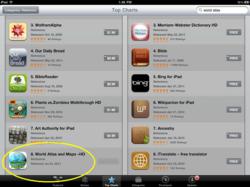 Exploring the World on iPad is now Easy
San Jose, CA (PRWEB) July 27, 2011
MapsofWorld.com, a leading maps and information portal, has just released the premium version of its World Atlas for iPad. The app, a limited version of which also continues free, sees many enhancements with this release.
The premium version comes with printable blank maps, which is great for students looking for practice. Detailed country maps can also be printed directly while browsing the atlas. Maps found useful can be shared with friends directly over email. Another useful feature helps compare and study multiple countries on GDP, area, population, and other parameters. Great discounts on wall maps are available at the map store.
The high-resolution maps with 3D relief have been retained in this version, which features the new and much-improved "finder" service for quickly searching for cities and countries. Learners can enhance their knowledge through the glossary of important terms. For checking out the weather of any place in real time, a weather widget is available. The utility for currency conversion comes handy to quickly convert between a large number of currencies.
The company's product lead, Nivesh Sharma told us: "With specially targeted features, World Atlas is a great tool for students and enthusiasts alike. We believe the app is now uniquely positioned to compete for the top spot."
MapsofWorld.com is a leading website on maps and related information. The parent company has offices in US and India, and provides cartographic services to various publishers of atlases and guides. It has collaborated with National Geographic for selling wall maps. The portal has close to 8,000 maps on different themes, which complements a knowledge-base of over 85,000 web pages. The company also has an array of apps for various mobile platforms.
For more information, contact:
MapXL Inc.
10 S, Third Street, Suite 310
###