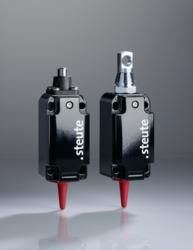 The RF 98 and EX RF 98 are suitable for a variety of applications including rotating machinery, gates, barriers, overhead positioning systems, stock management systems and those in arduous environments
Worcestershire, UK (PRWEB UK) 26 July 2011
The new battery-less RF 98 is an extremely robust and versatile wireless position switch that uses .steute's 'energy harvesting' principle to produce the energy required to transmit its wireless signal, which is done by converting kinetic energy (generated by the movement of actuating the switch) into electrical energy. The generated wireless signal, which uses the reliable 868mHz frequency, can extend from a minimum of 30m (internally) to a maximum of 300m (externally) and is insensitive to interference from external sources because the signal is transmitted within 80ms.
The new wireless position switch is suitable for a variety of applications including rotating machinery, gates, barriers, overhead positioning systems, stock management systems and those in arduous environments or where access to the process is difficult or potentially hazardous. The IP66 or IP69K-rated RF 98 has been tested to more than one million operations and is suitable for use in operating temperatures between -20°C and +60°C.
An IP67-rated Ex version is currently being tested and uses a robust metal enclosure to withstand high levels of mechanical stress. In accordance with the ATEX and IECEx directives, the EX RF 98 will be suitable for use in Ex zones 1 & 2 and 21 & 22.
Both versions of the wireless position switch are self-sufficient and therefore require no power supply, wiring or conduit/cable tray laying. They are also multi-network-compatible, can be easily programmed via any .steute wireless receiver and can be used in conjunction with other .steute wireless control devices – even on a single machine, as signals are transmitted together with a unique identification code.
Further information on the RF 98 and EX RF 98 can be found at http://www.steute.co.uk. Alternatively, call .steute UK & Ireland on +44 (0)1684 310430 or email infouk(at)steute(dot)com.
###