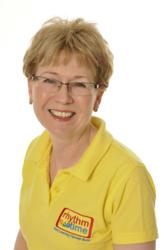 Being able to provide children with the opportunity for further music education when they leave Rhythm Time is really important to us.
Solihull, UK (PRWEB UK) 28 July 2011
Rhythm Time, one of the UK's fastest growing children's music franchise groups, is proud to announce its collaboration with Dorridge Music School in Solihull. Both organisations are recognised as providing quality music education. DMS (established in 1985) provides tuition for 4 year olds to adults (beginners to diploma level) and Rhythm Time (established in 1995) provides fun, educational music classes for babies, toddlers and pre-schoolers. Kathy Doolan, Rhythm Time founder, has incorporated key musical elements taught within their classes into DMS's Crotchet Club (the youngest of their students). This will ensure a seamless transition between pre-schoolers leaving Rhythm Time and joining the Crotchet Club, thus providing an excellent foundation musically for the youngsters.
This collaboration is further evidence of the continued success of Rhythm Time, an organisation passionate about the benefits of music for babies and children.
"It is important for children to experience music at this early age since they are at their most receptive," says Kathy. "Being able to provide children with the opportunity for further music education when they leave Rhythm Time is really important to us" she adds.
A growing number of children are continuing to enjoy Rhythm Time's music sessions across the UK: latest figures show that there are approximately 9500 children attending their sessions across 300 venues. Franchisee growth is also at an all-time high, with 11 new franchisees buying a music franchise in 2011 so far. This brings the total to 35 since 2000.
The main reasons franchisees give for buying a music franchise from Rhythm Time is the combination of a love of music, working with children, and having a career that fits around their family commitments.
Rhythm Time's unique set of music courses have been specifically written by Kathy (previously Head of Music at a Scottish school) and created to help a child's confidence, creativity and co-ordination. The classes are aimed at different age groups, specifically: music classes for babies (from birth to 14 months), music classes for toddlers (15 months to 3 years), and music classes for pre-school (3 – 5 years). A child can show key signs of development at each stage, so it is highly beneficial to progress throughout all 3 age groups.
For more information on a Rhythm Time music franchise throughout the UK, contact Kathy Doolan on 0121 711 4224 or visit their website.
Information For Editors
Rhythm Time
76 Beechwood Park Road
Solihull
B91 1ES
Telephone: 0121 711 4224
Rhythm Time was started in Solihull in 1995 by Kathy Doolan. After a very successful five years, Kathy decided to franchise the business in 2000.
All the courses have been created by Kathy, who trained at the Royal Scottish Academy of Music & Drama in Glasgow.
Rhythm Time now has 35 franchises all over the UK, operating in 300 venues with approximately 9500 children attending classes.
Kathy previously was head of music in a Scottish school and shares with all franchisees and teachers a real passion and belief in the importance of music during a child's formative years.
Kathy is a strong believer that singing unaccompanied helps to develop a child's speech and language from an early age and this forms a key element in all the classes.
# # #