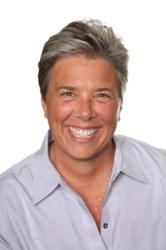 To continually be recognized by BtoB Magazine is rewarding. It's another motivator to keep doing better year after year; I want to keep my streak going
Traverse City, MI (PRWEB) July 27, 2011
For eight consecutive years, BtoB Magazine has honored Lisa Wehr for trailblazing the search marketing world. As founder and CEO of full service digital marketing agency, Oneupweb, Wehr continues to evolve search (both paid and natural), social and design.
"I remember the first time I was listed in the Who's Who in B-to-B Special Report," says Wehr. "To continually be recognized by BtoB Magazine is rewarding. It's another motivator to keep doing better year after year; I want to keep my streak going."
The B-to-B Who's Who is an annual salute that honors key thought leaders, movers and shakers across a broad spectrum of the marketing industry. 2011's list features top level business-to-business marketing executives in nine categories. Last year Wehr was the only woman listed as a Who's Who in B-to-B for search marketing, and this year she again stands out as the only woman in the search category—another remarkable component that derives Oneupweb from their competitors.
"Search marketing is fierce when it comes to competition," explains Wehr. "We [the Oneupweb team] definitely have a passion for outdoing our success from the previous year; it's what keeps us innovative, thriving and ultimately what's responsible for our growth."
To learn more about Wehr and her team, please visit OneUpWeb.com.
About Oneupweb
Oneupweb has been an innovator in digital marketing for more than a decade, creating integrated online marketing plans that incorporate Search, Social and Design services. Heralded by an independent research firm for their leadership team, Midwestern work ethic and solid experience in optimizing complicated sites, Oneupweb has been named a Top 20 Search Marketing Agency by Advertising Age for five consecutive years, and CEO Lisa Wehr is recognized as an Ernst & Young Entrepreneur of the Year. The company publishes an award-winning blog entitled StraightUpSearch, and an award-winning monthly newsletter entitled The Merge. Oneupweb is a privately held company located in Traverse City, Michigan. For more information on Oneupweb, please call 231.922.9977, visit OneUpWeb.com or follow them on Twitter @Oneupweb and @LisaWehr