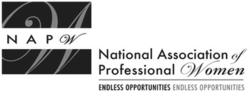 The event is for participants to showcase their company's products and services to fellow NAPW members and to the public...
(PRWEB) July 27, 2011
NAPW Columbus Chapter held a meeting on Thursday, July 21st. Members in attendance included Gail V. Goldman, President, Bridget McColgan, Mary Richardson, and Jeannine Vegh. July's monthly meeting was held at Safelite Autoglass, 2400 Farmers Drive, Columbus, OH. Gail Goldman, Chapter President, welcomed all attendees and opened the meeting at 6:15pm. Chapter members present gave a 60 second commercial and shared their expectations of NAPW and how the Columbus chapter can assist.
Gail extended heartfelt gratitude to Natasha Borders, Social/Network Committee Chair, Jenni Martini, Historian/Photographer, and La Vonia Smith, Vice President, Charity/Fundraising Chair for their dedication and hard work coordinating chapter's involvement in the Columbus Trade Show. The Trade Show will replace the monthly meeting in the month of August.
Gail also extended congratulations to Bridget McColgan for her recent promotion to Safelite Autoglass Regional Manager. She also welcomed guest Jeannine Vegh, Psychotherapist, who attended her first Columbus Chapter meeting.
Gail reminded chapter members that the local chapter page should be every chapter members' first point of contact for local chapter news, events and communications, in addition to emails through the message center.
Discussion was held on the remaining officer appointment and open Committee Chair appointments to form the Secretary post and chairs on the Mentor/Mentee Relationship Committee and Volunteer/Membership Committee.
The officer appointments and committee chair results are as follows:
Vice President, Charity/Fundraiser Committee – La Vonia Smith
Secretary – Open
Mentor/Mentee Relationship Committee – Mary Bryant
Volunteer/Membership Committee –Jeannine Vegh
Committee chairs/or group members are asked to make a report to chapter members at every monthly meeting.
The Columbus Trade Show is scheduled for August 21st from 11am to 4pm at Hilton Columbus at Easton. Questions were answered about the event's advertisement and participants. The event is open to the public and NAPW members.
"The event is for participants to showcase their company's products and services to fellow NAPW members and to the public," Gail said. There is a $75 set up fee for all participants. The deadline for registration is Friday, August 12th. Point of contact to register is Natasha Boarders at Natasha@bartandgabriel.com. The event is free to attend and open to the public, family, friends and coworkers. Chapter members are asked to spread the word and invite as many people as they'd like.
The chapter discussed how to increase chapter members' attendance at the monthly meetings. Several suggestions were made, including a teleconference option where members who are unable to attend in-person can call in and participate by phone or online. Webinars, and/or Skype video chats were also suggested. Attendees agreed to dedicate time in the coming weeks to contact every member, in order to explore and learn how best to accommodate each chapter member's needs. The group plans to discuss possible solutions at a future meeting.
Gail extended special thanks to ladies for attending July's chapter meeting.
The meeting adjourned at 8:00 pm. The next monthly chapter meeting, following the trade show in August, will be on Thursday, September 15th from 6:00pm to 8:00pm, located at Safelite Autoglass, 2400 Farmers Drive, Columbus, OH 43235.
For additional information regarding the Columbus local chapter and/or [NAPW please visit http://www.napw.com.
Follow us on Facebook and Twitter.
###