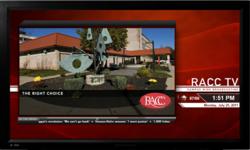 The monitors give us a dynamic way to communicate with our students.
Lancaster, PA (PRWEB) July 27, 2011
Reading Area Community College has contracted with ConnectedSign, a prominent integrator of Digital Signage systems, to deploy a network of interconnected electronic signs to communicate messages and events across campus as well as increase student engagement.
"The monitors give us a dynamic way to communicate with our students. We have versatility to share information like important deadlines, upcoming campus events and video interviews," said Alison Wenger, Electronic Media and Marketing Specialist at Reading Area Community College. "We're also exploring ways to increase student engagement by displaying artwork and other student-produced pieces."
The digital signs are creating quite a buzz of excitement around campus. "The first screen was fired up for about 45 seconds and drew a pretty thick crowd- that was even before all the content was added to the display," said Zachary Kolodziejski, Graphic Design and Support Specialist at ConnectedSign. The College plans on involving their student audience in the content creation process, ensuring their young viewers will remain engaged .
ConnectedSign installed monitors in several of Reading Area Community College campus buildings, including the Schmidt Training and Technology Center and the Miller Center for the Arts. The digital signage software provided by ConnectedSign enables the College to display messages, schedules, menus, school and community images, RSS feeds and weather. The monitors are one of the newest tools the College is using to enhance communication with students, faculty and staff.
About Reading Area Community College:
Reading Area Community College (RACC), Reading, PA, is an accredited, comprehensive, open-enrollment education institution that provides the following: associate degree, certificate and diploma programs; career-focused training; transitional coursework; skills training for business and industry; personal enrichment programs and public service activities. Sponsored by the Berks County Board of Commissioners, the College provides affordable access to meet identified community educational needs.
About ConnectedSign:
ConnectedSign is a full service Digital Signage agency with more than 16 years of experience planning and deploying Digital Signage systems, interactive Digital Signage and kiosk networks. We provide Digital Signage software, hardware, content creation, content management and consulting services. More details can be found at http://www.connectedsign.com.
###