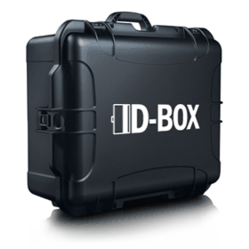 ID-BOX, a Mobile Photo ID System from SOHO-iT, is an all-in-one mobile ID card printing solution.
(PRWEB) July 27, 2011
SOHO-iT, a North American based leader in the ID card industry, launched its new product, the ID-BOX (http://www.id-box.info), at CANSEC 2011, Canada's foremost defense and security technology showcase. Developed by SOHO-iT's experienced R&D team, the ID-BOX is the natural extension of the company's decade-old involvement in the ID card industry.
The ID-BOX is a Mobile Photo ID System, providing a user-friendly solution for organizations requiring on-site ID card production capabilities. It can easily be used by government departments, event managers, first responders, and many more to produce photo ID cards, Common Access Cards (CAC), special permits or temporary passes.
The ID-BOX includes all components necessary for photo ID card production: its Waterproof Extreme-Duty case protects the sensitive equipment; a robotized camera, together with a built-in ID card printer and Windows-equipped laptop, fully loaded with IDpack Professional ID card software, in the harshest environments. Optional biometric features such as a fingerprint reader and electronic signature pad can be added. All the equipment is integrated in the case, you just need to open the ID-BOX, plug it in and you are ready to go.
The ID-BOX is also suitable for emergency and tactical operations, enabling agencies to issue credentials quickly. The robust design of the ID-BOX, derived from a prototype designed for military specifications, has been tested under arduous conditions it is unlikely to face during normal usage. This practical and economical ID-card production solution is already being used by construction sites, municipal departments and other locations requiring versatility and portability.
See the ID-BOX in action at: http://www.youtube.com/watch?v=8NbHVumQges
The ID-BOX is currently distributed by Aptika at: http://www.aptika.com. It will also be introduced in Europe, at the Milipol Military Tradeshow in the fall.
About SOHO-iT (http://www.soho-it.com)
SOHO-iT has been involved in the identification industry for more than 12 years. It owns and operates a number of divisions in the identification field. SOHO-iT continues to provide innovative solutions and its R&D team is constantly integrating new products and technologies into its IDpack software, ensuring it remains an industry-leader.
For more information, contact us at: (917) 338-7828 (NY, USA)
# # #