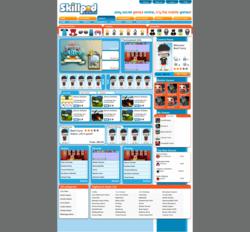 Anywhere, Anytime, Playtime - with the SkillPod Media Platform
(PRWEB) July 28, 2011
Since SkillPod Media's inking of an agreement to provide online casual games for RTL Group – the leading European entertainment network – momentum has gathered quickly.
Already established as one of the most prolific providers of online casual games internationally, the partnership with RTL Group has seen a number of European games platform deployments. The speed and success of these deployments is due in no small measure to the Rapid Development Framework (RDF) that SkillPod Media has developed - precisely to enable a partner website to be able to offer high-quality games to users in short order.
The RDF uses an advanced XML framework for very quick deployment of online games portals to global partners. It allows for rapid re-skinning and language translation to achieve full localisation in any country. It also provides community-building elements, micro-payment capacity for monetisation, and Facebook integration.
Game platforms for the Netherlands and Belgium
A new RTL Nederland games site has been implemented using the RDF technology. Included in the implementation is an RTL Nederland Facebook games platform.
"We fully recognise the importance of the convergence opportunities offered by social networking websites," explains SkillPod CEO, Mark van Diggelen. "Players want to be able to play games on entertainment portals as well as when they're on sites like Facebook – and to have their games, scores and communities integrated."
The same types of games websites and Facebook platforms have been deployed for RTL Belgium. Both the Netherlands and Belgian platforms included fully translated text for every single part of every game.
Rich features for players and clients
These entertainment platforms include features like tournaments, avatar creation and pimping, dynamic post-game promotional screens, dynamic score logging and integrated registration with platforms such as OpenID and Facebook Connect.
But dynamism has always been a hallmark of SkillPod Media, so new developments are already on the way. High score and post-game screen APIs in the Youda games across the RTL sites are coming up. GamePoint multiplayer games have also been integrated and included in the games framework.
Additionally, a new skill-based mobile games platform will be launched with a UK-based client in July, targeted at European and North American users.
Arabic expansion
SkillPod Media has successfully launched 3 Arabic games websites using its RDF and Facebook platforms - in collaboration with its client, Illustre. Both parties believe these new portals will open up a large new opportunity, as users in the Middle East have vast appetites for online and mobile content. This will doubtless extend to advertisers that are even hungrier for advertising and branding opportunities to reach this user base.
SkillPod had to overcome various challenges, like the use of Arabic characters and the fact that the text and all other site elements need to be read from right to left. To address these challenges various new processes were researched and developed by the SkillPod team. Thus far success has come quickly, with player registrations constantly growing and players returning to play the games regularly.
# # #