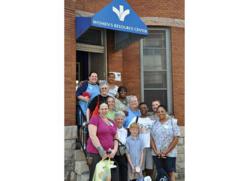 "I saw this volunteer opportunity as a way to learn about the sister's life in ministry, the apostolic aspect of the sister's life," said Amy Smith, volunteer.
Baltimore, Maryland (PRWEB) July 28, 2011
The Sisters of Bon Secours are wrapping up their short-term service program focused on outreach to inner city Baltimore residents in need. A group of young Catholic women from MD, VA and NJ have volunteered nearly a week of their time to work with the sisters in Project Good Help®. Amy Smith is a critical care nurse from Portsmouth, Va. She has been to two Sisters of Bon Secours Come and See weekends and learned about their community and prayer life. "I saw this volunteer opportunity as a way to learn about the sister's life in ministry, the apostolic aspect of the sister's life," said Smith.
This group of sisters and volunteers began their service on Friday, July 22 by working at the Women's Resource Center of Bon Secours to deep clean, paint provide health information and take blood pressures of the Center's guests. The Resource Center provides women with a supportive faith-based environment to access much needed basic social, educational and pastoral services. Verna Gentry, Program Director for the Women's Resource Center, expressed her gratitude to the sisters and volunteers, saying, "They had a great impact on my clients as well as me. We will be forever grateful for that day. The guests were given a lot of information in reference to health and their overall well being and the center received a much needed good cleaning and touch-up painting too."
Even through the blistering heat of the long weekend, the sisters and volunteers worked long days to help Baltimore area social service programs and their participants. Some of their services included: providing blood pressure screenings; an afternoon social for seniors at Bon Secours Smallwood Summit, a low-income housing program; deep cleaning and setting up a house for others; preparing and serving meals at a soup kitchen. Most of these area non-profits have suffered dramatically from reduced funding due to the economy and welcomed these extra hands to provide services to people in need.
Volunteers stayed at the US headquarters of the Sisters of Bon Secours in Marriottsville, Md. In addition to their full day of service, their schedule included morning prayer, meals, prayer and reflection on the day after supper, and some time to relax with the sisters in the evening. The women felt that they received more through their service than they gave and felt united in their service to others. Marie Barros, a nurse from Silver Spring, Md. said the group of women "gets along spectacularly. It's been a blast!"
Sister Patricia Dowling, CBS, Director of Vocation Ministry for Sisters of Bon Secours, has been working alongside this group of volunteers. "I am awed at the generosity of these young women, most of whom have taken off time from their own jobs to pitch in and volunteer to make things better for others," said Sr. Pat. "It's amazing that their faith and relationship with God is their driving force. They put their faith into action and find the face of God in those they are helping."
About the Sisters of Bon Secours: As an international congregation of Catholic sisters they have long had a heart for providing health care, social services and spiritual comfort to communities since their inception in 1824 when they nursed the sick in their homes. Today, their holistic approach to caring for all of creation equips the Sisters of Bon Secours to spread wellness and God's love throughout the four corners of the world. The sisters have been reaching out to people in need of West Baltimore for 130 years. For more information on discerning your vocation or becoming a nun, please visit http://BonSecoursVocations.org, email: CBSVocationsa(at)bshsi(dot)org or call 410-442-0267.
###