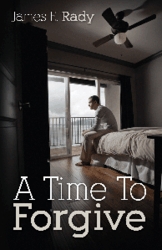 As Charlie begins to forgive others, including (ex-wife) Janet, his life takes on a splendid turn for the better.
Lima, Ohio (PRWEB) July 28, 2011
Life begins anew for injured war hero Charlie Clay when he meets a young Christian girl at Indiana University. Charlie comes with a past: a failed marriage after his high school sweetheart has an affair, alcohol abuse and a stint in the Army in Korea. His bitterness with life prompts him to swear off marriage forever, but it's possible that Beverly and her unwavering faith may change his mind if he can overcome the past and learn to forgive.
A Time to Forgive, published by Dog Ear Publishing, tells the story of a young man raised on a 400-acres farm who just wanted to have a job, marry a woman who loves him and God, raise a family and live happily ever after. Instead, at 23, he must rebuild his life and can only do so with God's help. After he discovers his Janet's affair, she leaves with their 3-year-old son to be with her lover and travel a road to ruin. Beverly, an "angel in disguise," eventually talks to Janet, who begins to heal her own spirit. As Charlie begins to forgive others, including Janet, his life takes on a splendid turn for the better. Newfound resources and an unexpected change in his life's path bring him closer to his goal of helping others. With God's help, Charlie may get the truly happy ending he deserves.
This is the second novel for author James Rady, who wrote Love Finds a Way at age 85. He has published three poetry books. Rady served in the U.S. Coast Guard during World War II and retired as a major in the U.S. Army, serving in the Korean and Vietnam wars. He has been a radio news reporter and producer/moderator of a cable television talk show, as well as serving as a teacher and administrator in Indiana schools. He and his wife live in Lima, Ohio. It's the author's hope that those who read this novel will find the courage to find God's forgiveness in their hearts and to forgive others.
For more information, visit http://www.jimedrady.com
A TIME TO FORGIVE
James Rady
Dog Ear Publishing
ISBN: 978-145750-341-2
280 pages
$15.99 US
Available at Ingram, Amazon.com, Barnes & Noble
and fine bookstores everywhere
About Dog Ear Publishing, LLC
Dog Ear Publishing offers completely customized self-publishing services for independent authors. We provide cost-effective, fast, and highly profitable services to publish and distribute independently published books. Our book publishing and distribution services reach worldwide. Dog Ear authors retain all rights and complete creative control throughout the entire self-publishing process. Self-publishing services are available globally at http://www.dogearpublishing.net and from our offices in Indianapolis.
Dog Ear Publishing – self-publishing that actually makes sense.
###