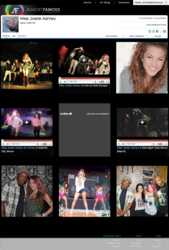 I like AF because I can upload media, text, calendar events among other things in the format that I want it, in the order I want people to see it. Then share it with existing fans from other social networks or get discovered by new ones. -MJA
Miami, FL (PRWEB) July 27, 2011
Start-up internet company AlmostFamous.com announces the beta launch of its talent search and discovery platform offering new artists an easier way to share their media. AlmostFamous is the most complete social media talent discovery site on the market today.
With AlmostFamous, artists can upload their media into module boxes on their profiles. On this modules they can upload images, videos (YouTube or Vimeo) and audio (soundcould or direct upload) as well as create calendar events, link twitter or their blogs RSS feed, or just simply write a note for their followers. Once all their content is in they can share their profiles on existing social media sites including Facebook and Twitter.
AlmostFamous was founded to help new talent obtain more fans and simplify the talent search and discovery process. AlmostFamous offers talent a platform in which they will be able to use modules to upload media content, link their twitter account, blog and even discover new artists. "Our goal is to enable new artists to get more exposure through a user friendly social media platform where they will be able to display their talent as well as network with people who can influence their careers and help them become successful." Said Tedd Bernard, founder of the company. "We want to ban the boundaries created by the industry and give music lovers a new tool to discover new artists in a shorter period of time" he added.
"With the popularity of talent competition TV Shows, we thought this would be a great idea to bring to the market" said Tedd Bernard, "...with AlmostFamous.com, we are bringing together the best of both worlds, we are offering artist a road to discovery."
Right now emerging artists have limited options in terms of web presence, and with Myspace's fall, AlmostFamous.com comes in as a perfect solution for these voids. Musicians and fans have to jump from site to site to display / enjoy their music. We give them a complete media displaying platform.
###