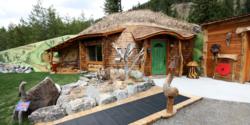 Whitepine Shire, Trout Creek, Montana (PRWEB) July 28, 2011
Those who live in New Zealand have the privy to visit the new movie set of The Hobbit soon to be released in December 2012.
But what about the folks here in the United States ~ we want our dose of Hobbit too!
Just in time... a real live Hobbit abode with Bilbo and Frodo's house, a 700 year old Troll house and of course the River Shire... all at the Hobbit House of Montana.com.
Located in Whitepine Valley in the backwoods of Montana is a real – true to life Hobbit House with all of the creature comforts afforded by Mr. Baggins himself.
The designer, Steve Michaels has spared no expense in bringing to life an entire village devoted entirely to Trolls, Elves, Fairies and of course Hobbits.
To book your reservation, call (406) 827-7200 or log onto their enchanted website at http://www.HobbitHouseofMontana.com.
Soon to be seen on MTV's "Extreme Cribs", this Enchanted Private Lodging facility is open year round with rates starting at $245 per night and as Mr. Michaels says... this could be Hobbit Forming©!
###