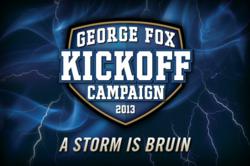 (PRWEB) July 27, 2011
Kickoff isn't for two more years, but George Fox University is conducting a national search now for the coach who will lead a Bruin football program making its return after a 44-year break. The deadline to apply for the position is Sept. 1.
George Fox, which competes in the Northwest Conference at the NCAA Division III level, announced in the spring of 2010 it was bringing football back after a more than 40-year hiatus from the sport. The university's board of trustees approved the reinstallation after taking into consideration factors ranging from cost and enrollment impact to campus climate and the school's gender ratio.
George Fox Athletic Director Craig Taylor said interest in the head coaching position is high, with more than 50 individuals contacting the school to inquire about the job as of late July.
"We're pretty buried right now with inquiries, with coaches from all over the country – Florida, Minnesota, Wisconsin, Georgia, California, Texas and obviously Oregon and Washington – showing interest," Taylor said. "What's exciting to me is to see the quality of coaches who've inquired. Some real quality high school guys as well as college and even Division I guys. The word is definitely out there."
Taylor said the job is appealing for two reasons: the overall quality and high reputation of the university and the prospect of building a program from the ground up.
"A lot of coaches are really attracted to the idea of starting from scratch," Taylor said. "This isn't a situation where you have a bad program that needs to be turned around. This is a chance for someone to come in here and start fresh."
After the job closes Sept. 1, the school will conduct interviews and announce the name of the new coach in January of 2012, Taylor said. More about the position is available at georgefox.edu/offices/hr/ZHeadFootballCoach.html.
The job duties include recruiting; making team selections; scheduling and conducting practices; scheduling contests; hiring, supervising and educating assistant coaches; facility oversight; budget preparation and management; equipment purchases and maintenance; travel arrangements; safety and risk management; public relations; and fundraising.
George Fox last played football in the fall of 1968. With the exception of a brief period in the late 1920s and during World War II, the school fielded a team from 1894 to the late 1960s.
The team will play its home games in Stoffer Family Stadium, part of the $6.5 million Austin Sports Complex located a half-mile north of the school's Newberg, Ore., campus. Construction of the complex began in 2010, and one of the facility's fields was used for soccer games last fall.
When completed, Stoffer Family Stadium's multi-use synthetic turf field will be able to accommodate football, soccer and lacrosse. In addition to football, George Fox will introduce women's lacrosse in 2013.
More information about George Fox's Division III football program is available at georgefox.edu/football.
George Fox University is ranked by Forbes as the top Christian college in the Pacific Northwest and among the top three Christian colleges in the country. George Fox is the only Christian university in the Pacific Northwest classified by U.S. News & World Report as a first tier national university. More than 3,400 students attend classes on the university's campus in Newberg, Ore., and at teaching centers in Portland, Salem, and Redmond, Ore., and Boise, Idaho. George Fox offers bachelor's degrees in more than 40 majors, degree-completion programs for working adults, five seminary degrees, and 11 master's and doctoral degrees.
Contact:
Fred Gregory
Vice President of University Engagement
503-554-2103
# # #