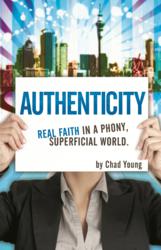 (PRWEB) July 28, 2011
"All you Christians are just a bunch of Hypocrites!" Unfortunately comments like this and the deep, passionate emotion behind them define today's postmodern culture.
Chad Young writes as a person who has struggled with a worldly lifestyle and the distractions of living in a busy culture. Through its anecdotes and relational tone, Authenticity (Biblica Publishing, $15.99, paper, ISBN: 9781606570876), Chad leads believers on their journey toward what being authentic really looks like.
We're in trouble! Recent studies by Cru and the Barna Group reveal just how widespread the problem is. According to Barna, only 16 percent of people between the ages of sixteen and twenty-nine have a positive impression of Christianity in general.
In Authenticity, Young hits this issue head-on and the reasons why postmodern young feel so negative about Christianity, addressing it with Scripture, moving the reader toward authenticity.
"In this intensely personal and yet universal book, Chad Young has written of what it means to let oneself see through the inauthenticity it sometimes seems surrounds the Church...Authenticity is a must-read," said Bret Lott, English professor at College of Charleston and author of Jewel, an Oprah's Book Club selection.
Chad Young is an alum of Clemson University and Georgia Tech. Young has been on staff with Cru, formerly Campus Crusade for Christ since 2002, and serves as director for the South Carolina Lowcountry with a scope of 25 college campuses and 70,000 students. His passion is helping students learn what an authentic relationship with Christ looks like. Chad and his wife, Elizabeth, live with their four children in Charleston, SC.
About Biblica
Celebrating more than 200 years in ministry, Biblica provides God's Word to people through translation, publishing, and Bible engagement. Biblica's ministry extends worldwide, with outreach in over 55 countries. Biblica has translated the Bible in more than 100 languages and is the translation sponsor and publisher of the New International Version® (NIV®) Bible, the most widely read and trusted contemporary English translation. Through its worldwide reach, Biblica engages people with God's Word so lives are transformed through a relationship with Jesus Christ. For more information, visit BiblicaDirect.com.
Mike Dworak, Biblica Publishing Marketing Director • mike.dworak(at)biblica(dot)com • 719-867-2768 • BiblicaDirect.com
###