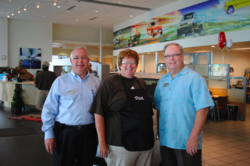 Amarillo, Texas (PRWEB) July 26, 2011
Street Toyota declared Shelli Thayer Jones the new owner of a Kingsford 773-sq. in Premium Charcoal Grill, a $75 gift card to Ede's Custom Meats and a $50 gift card to United Supermarket. Jones claimed her prize package on July 2 at the Street Toyota dealership.
Jones was elated to receive the gift and put it to use quickly for her very own birthday party.
"The grill is HUGE and cooks a lot of meat and veggies. My son, Jason thinks it might be too much grill for me, but I think my family and I will enjoy it for many years," said Jones.
When Street Toyota inquired about Jones' strategy in winning the giveaway, she simply stated that her close friends and family helped her succeed.
"I didn't think much about it [the giveaway] until Toyota posted I was in second place and suddenly I found I was quite competitive," said Jones.
Street Toyota will continue to reward their fans by promoting more giveaways and games. To participate in all of the fun, simply visit the link below:
http://www.facebook.com/streettoyota
Street Toyota in Amarillo, Texas was established in 1982. A new 58,000 square foot facility on 9 acres is now open at 45th and Soncy. This is a state of the art facility and the customer's comfort has been emphasized from the ample parking right down to the gourmet coffee. Street Toyota is the first dealer in west Texas to become Signature Certified.
Street Toyota has been a valuable corporate citizen in the Panhandle area. They provide support to area nonprofit organizations such as United Way, Better Business Bureau, Amarillo Adult Literacy, Harrington Cancer Center, Meals on Wheels, Make-a-Wish Foundation, Amarillo Symphony, Amarillo Museum of Art, Amarillo Little Theater, Lone Star Ballet, Discovery Center, Globe News Center for the Performing Arts, CACHA (Hispanic Chamber of Commerce) and many other organizations.
###