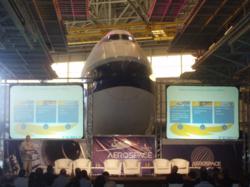 Mexico could be the tenth supplier of parts and components for the global aerospace industry. -Flavio Diaz Miron, Mexican Federation of Aerospace Industry (FEMIA)
Tijuana, Mexico (PRWEB) July 27, 2011
Tijuana EDC: In an ideal setting, within the MRO hangar of Tijuana's International Airport, the second Baja Aerospace Forum successfully achieved it´s objective of demonstrating to leading aerospace companies, the manufacturing experience, technical capabilities, logistics advantages and human capital available within the State of Baja California.
The forum included insightful presentations of industry experts. During the speech of Eduardo Solis representative of Mexican Federation of Aerospace Industry (FEMIA), he highlighted the importance of parts and products for aircraft manufacturing in Mexico which represents 60% of the total aerospace industry in the country. Mexico´s aerospace manufacturing base is concentrated in three mayor regions: Center, Northeast and Northwest that is mainly represented by the cities of Tijuana and Mexicali; together concentrate 50% of employment in aerospace manufacturing.
Flavio Diaz Miron, Chairman of the board of Mexican Federation of Aerospace Industry, presented global trends and opportunities such as the US government considering opening the defense manufacturing market, which is three times bigger than commercial. If this becomes a reality in a short time, it is feasible that Tijuana may become the premier destination due to it´s proximity to California, one of the world's biggest markets for this industry.
One day prior to the event, early in the morning three buses departed with destination to Eaton, Zodiac and Delphi facilities to an industrial tour , the Tijuana EDC organized visits to three leading manufacturing facilities in Tijuana, providing firsthand knowledge of the world-class manufacturing capacities available in Tijuana.
Zodiac one of the worlds's leading components supplier of plane interiors and aircraft systems made a presentation to representatives of Bombardier, Eurocopter, Safran and FEMIA about the success of their operations in Tijuana and shared with them the announcement of their expansion starting next month. After the bus tour the attendants enjoyed a networking event hosted by Tijuana EDC, with special guests from government including the Mayor of Tijjuana, Mr. Carlos Bustamante, and representatives from local business organizations.
Tijuana, the host city for the Aerospace event, is home of 29 aerospace firms, with 7,300 workers growing at 6% per year. 65% of aerospace companies in the State are AS9100 and NADCAP certified. Overall 90% of all manufacturing firms in Tijuana with 250+ employees are certified under ISO 9000, ISO 13485 or other quality standard. Companies like Delphi, CST, Cobham, Suntron, Delphi, Eaton, Cubic, Esterline have successful and profitable operations in the region.
Tijuana is an ideal destination for high value – low volume – high mix manufacturing, of components and airframe parts like communication equipments, sensors, cables and harnesses, cargo nets, fiber glass parts, insulation engine and control components among and diverse products assembly and MRO services. Click here if you want to learn more about Tijuana, Mexico aerospace industry.
About Tijuana EDC: The Tijuana EDC is a nonprofit corporation dedicated to help companies to establish successful manufacturing operations in Mexico and to take advantage of business opportunities of vertical integration introducing qualified Mexican suppliers and accessing new markets. For more information on how to take advantage of these opportunities contact the Tijuana EDC at contact(at)tijuana-mex(dot)com or visit their website http://www.tijuana-edc.com.
###