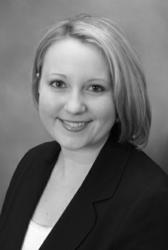 Cleveland, OH (PRWEB) July 26, 2011
Metrics Marketing Group's Vice President of Research and Customer Experience, Cathleen Zapata, was chosen as a Crain's Cleveland Business Women of Note Finalist. The popular Cleveland business publication annually identifies the most deserving female business leaders who "bring passion, dedication and strength" to Northeast Ohio's workforce.
Metrics Marketing, an analytics-driven database marketing and interactive services firm in Cleveland, hired Cathleen Zapata in 2009 as Vice President of Research and Customer Experience. Zapata established and continues to grow the company's research and customer experience service offerings to include usability testing, user research, heuristic evaluations (expert reviews), conversion enhancement strategies, traditional market research and more.
One of Zapata's first initiatives upon joining Metrics was designing and developing MetricsLab(SM), a groundbreaking user research facility with a highly technical set-up, yet supremely comfortable space for both participants and study observers alike. Building a best-in-class research facility uniquely designed with usability testing first in mind was an indentified need in the marketplace by Zapata, particularly in the Midwest where most dedicated usability labs available for broad use are on the coasts. Today, Metrics Marketing is one of the only interactive marketing firms with full research, usability and eye tracking capabilities across the U.S.
Zapata has more than 15 years experience in quantitative and qualitative research, specializing in usability. She has been featured in MarketingSherpa, About.com, UX Magazine, Crain's Cleveland, The Columbus Dispatch, and regularly teaches on topics of usability, user experience and conversion strategies internationally, including Shop.org, BAI Retail Delivery, American Marketing Association, UPA and more. She has worked with numerous companies to improve their user experiences, including KeyBank, Citizens Bank, Nationwide Insurance, Medical Mutual of Ohio, The Cleveland Clinic, American Greetings Interactive, Midas and Coach, Inc.
Zapata's additional credentials and community service involvement secured her as a finalist in the Women of Note Class of 2011. She has volunteered her time for nearly seven years to the Northeast Ohio chapter of the Usability Professionals' Association (NEOUPA), currently serving as President of the Chapter. UPA is a non-profit organization dedicated to providing usability and user experience education and skill development with over 2,500 members worldwide. She has also spearheaded the global World Usability Day event in Northeast Ohio since its inception, and served as an executive board member of the Web Association from 2008-2009.
Zapata regularly teaches on topics of research, user experience and usability at colleges and events internationally, and through publically available webinars. She has worked with numerous colleges to help provide education in the field of usability, including Cleveland State University and Kent State University, and has lead shadowing programs to provide students with actual hands-on experience. Zapata also volunteers and supports several community service programs and nonprofit organizations including The Humane Society of the United States, Santa's Hideaway Hollow, the American Diabetes Association and the Official U.S. Marine Corps Toys for Tots Foundation.
"I cannot think of someone more deserving of this honor than Cathleen Zapata," commented Dan Rose, Partner, Metrics Marketing Group. "From hiring a full supporting staff, to developing propriety research, to furnishing the lab with the best equipment and technology on the market, Cathy has literally built MetricsLabSM and our usability offerings from the ground up. Her hard work, dedication, passion and expertise have resulted in our company growing exponentially. Cathy and her team continue to strengthen and expand our offerings to fit the demands of our clients and the industry."
More than 200 nominations were submitted to this year's class and Cathleen Zapata was one of 26 women selected as a finalist, in addition to 15 honorees. To view the complete list of Crain's Women of Note, visit http://www.crainscleveland.com/marketing/woneditorial.html.
About Metrics Marketing
Based in Cleveland, Metrics Marketing offers comprehensive analytics-driven database and interactive marketing services that include: automated/triggered marketing systems, marketing database development and hosting, email strategy and deployment, predictive modeling, segmentation analysis, search marketing, creative services, website design, development and hosting, eCommerce solutions, web usability, web analytics, user research, traditional market research and Customer Relationship Management (CRM) strategy consulting. Metrics Marketing Group is a Precision Dialogue company and is located at 905 Corporate Way in Westlake, Ohio. Additional information can be found at http://www.metricsmarketing.com.
Media Contact:
Megan Smargiasso
440.471.6011
msmargiasso(at)metricsmarketing(dot)com
twitter.com/MetricsMrktg
###