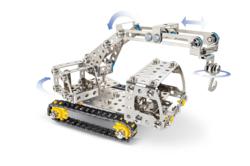 Redmond, WA (PRWEB) July 28, 2011
Eitech America, the exclusive U.S. distributor for Eitech, the German manufacturer of steel construction and building sets; is debuting new and innovative construction sets online at the Eitech Shop.
The new 2011 toys now available for purchase include the C11 Construction Vehicles Set, the C68 Digger and Truck Construction Set, the Teifoc Piggery Construction Set and the Teifoc Horse Stable Construction Set. Girls and boys of all ages will love discovering the excitement of building their own toy models, while learning valuable three-dimensional skills.
Over the next few months, Eitech will offer a number of new toys that offer new styles of playability and creativity available at retailers nationwide. An exciting lineup of steel construction sets and newly designed Teifoc brick and mortar construction sets, like the innovative Tower Bridge Construction Set, an iconic steel and brick bridge made with Eitech's interchangeable steel parts and Teifoc's brick and mortar components. Designed to develop advanced learning and science skills, the set contains over 1000 brick and steel pieces, step by step illustrated instructions and a new challenge for Eitech's devoted fan base of future builders. This item will be available for purchase by early September.
Teifoc is the new brick and mortar construction set that has redefined building systems in the U.S. toy and hobby market for 2010. The re-introduction of Teifoc to the American market was announced in an Eitech official press release on Tuesday, Nov 2.
Teifoc and Eitech toys are manufactured and engineered in Germany and made exclusively by Eitech, the leading European steel construction and building set manufacturer.
# # #