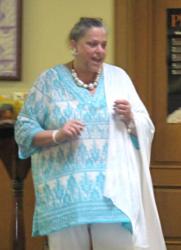 You are at Foxcroft. Know that Foxcroft is a magical place that helps people to find their voice and to become known." -- Sheila C. McKibbin
Middleburg, VA (PRWEB) July 27, 2011
Led by Assistant Head of School Sheila C. McKibbin and a cadre of students, Foxcroft School put out the red carpet this week for 77 teenagers from nine countries who all share a terrible experience: losing a family member to an act of terrorism.
The youngsters, who come from as far as Sri Lanka and as near as New Jersey, have gathered to participate in Project Common Bond, an eight-day program that teaches peace-building, conflict resolution, and leadership skills, and promotes understanding and community in the midst of difference. Now in its fourth year, Project Common Bond is organized by Tuesday's Children, a non-profit organization serving the needs of the 9/11 community. The program runs through July 30.
McKibbin kicked off the week at Foxcroft with an inspirational talk welcoming the group to a program, Project Common Bond, and a place, Foxcroft School, that together offer a remarkable opportunity for them to share, heal, grow, transform and be transformed.
"You have an opportunity through Project Common Bond to get to know and appreciate each other, to combine individually to create global community," she said, noting that sharing one's story can be daunting. "Know that Foxcroft is a magical place that helps people to find their voice and to become known.
"It is essential in today's world that we get to know one another to embrace our differences, share our humanity and celebrate the joy that comes from forging common bonds with people," she added. "It is my hope that every one of you will make connections to each other and form relationships that last a lifetime. You will be here for a while and when you leave, you will have the tools and the voice to validate others who are struggling."
With its scenic 500-acre campus and outstanding facilities, Foxcroft hosts numerous summer programs each year but its involvement with PCB. The School provided a scholarship for a girl from New Jersey to participate in the program and several Foxcroft faculty members are teaching. Foxcroft students and Head of School Mary Louise Leipheimer also welcomed Project Common Bond participants, giving them goodie bags, making signs, giving tours and helping them get settled. . Foxcroft girls will also participate in a special Thanksgiving Banquet next Friday.
"Foxcroft is our home and we are excited to share it with you," senior Samantha Nelson said.
McKibbin underscored the natural affinity between Foxcroft and this unique program.
"Project Common Bond speaks to Foxcroft's mission of every individual being known and valued," says McKibbin. "We both bring kids from around the country and the world and create a level playing field where community, understanding, and a sense of commonality flourish. That is urgently needed in today's world.
"Project Common Bond offers a great opportunity for Foxcroft to partner with and support an organization not only through the use of our facilities but by sharing the very ethos of the School," said McKibbin, "I am delighted that some of our girls and faculty can be a part of it."
About Foxcroft School (http://www.foxcroft.org ) Founded in 1914, Foxcroft is a college-preparatory boarding and day school for girls in grades 9-12. The 2010-11 student body was comprised of 157 girls from 20 states, eight countries and the District of Columbia. Foxcroft offers more then 90 courses, including 17 Advanced Placement classes, nine interscholastic sports and an outstanding riding program.
Tuesday's Children (http://www.tuesdayschildren.org) is a non-profit family service organization that has made a long term commitment to every individual impacted by the events of September 11, 2001 and more recently those who have been impacted by terrorist incidents worldwide. Since 2001, Tuesday's Children has promoted healing and recovery by strengthening family resilience, providing individual coping and life management skills and creating community through programs, mental health support and family engagement opportunities.
###