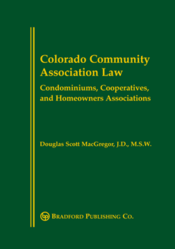 I can honestly say that the Condominium Law book is one of the most impressive books I've seen in my 14 years as a legal editor. It really is a treatise AND a practice guide.
Denver, CO (PRWEB) July 28, 2011
"Colorado Community Association Law—Condominiums, Cooperatives, and Homeowners Associations" is written by Douglas MacGregor, a national expert on community association law. For Mr. MacGregor to guide readers through the complex law on this subject, he not only describes the law in detail, but goes on to provide abundant commentary explaining the nuances and inconsistencies in the law and how the laws have been applied in the practice and interpreted by the courts. Mr. MacGregor also discusses how similar state laws have been applied in other jurisdictions, for the purpose of comparison. And where Colorado law is silent on a subject, the law of other jurisdictions is presented as guidance. As such, this book will serve as a useful case finder for litigators.
Written especially for Colorado attorneys, real property managers, and community association managers, this book will help readers: understand the applicability of the CCIOA and its relationship to the Colorado Nonprofit Corporation Act; learn how Colorado courts construe declaration language; understand the requirements for proper association and governing board meetings; prepare to deal with attempts to remove or recall directors; learn strategies for better rule enforcement and for dealing with troublesome unit owners; understand the legal requirements and practical considerations for levying and collecting assessments; understand vehicle and parking restrictions and requirements for towing unauthorized vehicles; be aware of ethical issues for attorneys representing associations; determine whether the association has standing to bring a legal action; and provide counsel regarding noise problems. In addition, practical suggestions and cautionary notes are generously scattered throughout the text.
About Bradford Publishing Co.
Founded in 1881, Bradford Publishing Company is Colorado's oldest and most trusted publisher of legal information, including legal forms, electronic legal forms, law books, and statutes. With a retail store and offices in Denver's historic LoDo district, Bradford Publishing provides legal forms and reference materials on a variety of legal topics for attorneys, other professionals, and consumers.
Our commitment to quality is the cornerstone of Bradford's business philosophy and we regularly update the content of our books and other publications, so you can rely on the most accurate and current information available.
Visit Bradford's Facebook Page
###