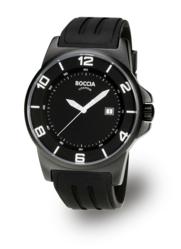 We don't want our wholesale customers to lose anymore sales so we are opening the doors to new opportunities for them
Las Vegas, Nevada (PRWEB) July 27, 2011
Boccia Titanium, makers of 100% pure Titanium jewelry, watches and accessories, is introducing a new and innovative marketing program for its retail store customers and encouraging new retail stores to partake in the new opportunity to earn commission on lost sales.
The new retail store referral program is open to all existing wholesale customers of Boccia's U.S. distributor, Universal Watch Co., Inc. (UWC). UWC has also begun recruiting new wholesale customers to sell Boccia products in their retail stores and take part in the program as well.
Retail stores may open a new Boccia Account with UWC for $1000, giving them a nice, but small selection of Boccia products to sell in their store. In some cases, their store customer may not see an item they wish to buy among the selection or they may be indecisive. The customer leaves the store and purchases the item from the U.S. Distributor's website instead. UWC would like to end the loss of these sales for the retail store by allowing them to offer their customers two exclusive services that are not available elsewhere: 1. The retail store may special order items from any brand that UWC distributes. UWC currently distributes four brands of jewelry, watches and accessories including: TeNo Stainless Steel, The TitanFactory, Steel Blaze and Boccia Titanium. Normally, it costs $5000 to open an account for TeNo Stainless Steel jewelry, watches and accessories but as a Boccia retailer, you are now able to special order products from these brands without needing an initial order. 2. Use the technology available to close the sale. Pull out the laptop or tablet while the customer is still in the store and show them all the products on the UWC distributor website (http://www.boccia.com), whether it be Boccia Titanium or one of the other three. Place the order online for the customer while they are in the store. Each Retailer will receive a special coupon code from UWC. When the coupon code is entered at checkout, the consumer receives free three-day shipping and the retailer receives 20% commission on the sale.
UWC takes the program one step further by printing 3"x5" club cards for all their retailers to distribute to those customers who simply could not commit before leaving the store. Each club card has an image of all the brands UWC distributes, as well as the website address and the coupon code needed to receive the complimentary three-day shipping.
"We have received many orders on our website where customers tell us in the comments section that they visited one of our retail customer's stores and then ordered the item online," says UWC President, Raphael Cohen. "We don't want our wholesale customers to lose anymore sales so we are opening the doors to new opportunities for them," he continued.
When a retail store becomes a wholesale customer of UWC, they are given a benefits package un-matched by other distributors. UWC offers it's wholesale customers free display materials, made-to-order marketing materials and advertisements for any deadline, same-day shipping, complete 1-week turnaround on all on-site repairs, and all items ship with corresponding gift boxes, warranties and directions when needed. Retailers receive automatic enrollment in the referral program, will be able to special order from UWC's four brands and be listed as certified Boccia Titanium retailer on the UWC website.
Boccia Titanium is made from 100% pure titanium, a particularly high class metal with a number of positive properties: it is extremely strong, hypo-allergenic, absolutely skin-friendly and antimagnetic. It is also corrosion and temperature resistant and very light, making it the ideal material for up-market products which are designed to last.
"Design in titanium makes for a cutting-edge line of women's and especially men's jewelry, watches and accessories…Boccia Titanium makes jewelry and watches that men wear and enjoy and still remain masculine and stylish." (Boccia Marketing Material)
To find out more about becoming a Boccia retailer or a retailer for any of UWC's products, visit the special Retailer Section of the Boccia Titanium website.
Media Contact:
Nadine Kluger
800-360-2586
nadine(at)boccia(dot)com
http://www.boccia.com
###