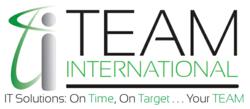 This recognition speaks of our ability to innovate and focus on customer needs across the Application Development and Maintenance outsourcing arena worldwide, - said Joe Chiovarou, Sr. VP Business Development for TEAM International.
Lake Mary, FL (PRWEB) July 28, 2011
Global Services, a media platform for the global outsourcing industry, reflects the diversity and overall landscape of the service provider community through the analysis of the global ITO-BPO industry. The 2011 GS100 annual list represents companies that demonstrate excellence in delivering ITO and BPO services globally using matured models of service delivery.
This year TEAM International is featured in the Global Services 100 List based on management excellence, breadth of services portfolio, customer and global delivery maturity.
Joe Chiovarou, Senior Vice President Business Development commented: "Receiving this prestigious award validates our strategy and our tactics, and acknowledges TEAM's excellence and maturity to serve the global market."
The complete GS100 report titled '2011 Global Services Compendium' is available in the digital magazine format by July 11, 2011.
TEAM International is proud to be recognized this year both by Global Services and IAOP. For more information on TEAM rankings in 2011 Global Outsourcing 100 by IAOP please check http://www.teaminternational.com/team_in_2011_global_outsourcing_100_by_iaop.html
About TEAM International
TEAM International (since 1991) offers offshore/nearshore application development and maintenance services to European and US IT organizations. TEAM International development center is located in Kharkov, Ukraine (Eastern Europe). TEAM International is U.S. owned and managed, CMMI Level 3 certified, IAOP "Global Outsourcing 100" and "Global Services 100" company. More information on TEAM International is available at http://www.teaminternational.com or by calling (407) 708-5804. Please follow us on Facebook, Twitter, and LinkedIn.
About Global Services
Global Services, a media platform by CyberMedia, covers strategies, best practices, and opportunities in global sourcing of ITO and BPO services. The publication reaches senior sourcing professionals in leading organizations across North America, Europe, and Asia. The Global Services brand is an integrated media platform that includes the website globalservicesmedia.com conferences, research, webinars, e-magazines, custom publishing, and various other content delivery formats.
About Global Services 100
GS100 is the annual survey and analysis of the global ITO-BPO industry done by Global Services in association with NeoGroup. The survey recognizes service provider excellence and maturity to serve the global market. The GS100 is a benchmark in the global ITO and BPO industry because of its rigorous methodology, exhaustive coverage, and value to the services buyer community. For the complete research study visit: http://microsites.globalservicesmedia.com/gs100.
About NeoGroup
NeoGroup was founded in 1999 (Formerly neoIT) with the principle that talent in low cost locations and outsourcing firms, leveraged appropriately could create sustainable competitive advantage. NeoGroup helps organizations benefit from the rise of services globalization and outsourcing around the world. NeoGroup's services helps create competitive advantage through advisory, risk monitoring, and program management. http://www.neogroup.com
###