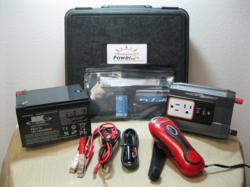 San Diego, CA (PRWEB) July 27, 2011
Plug 'n Save Energy Products ("Plug 'n Save"), providers of affordable, renewable energy solutions, today announced the launch of the Emergency Power Kit, a small, backup power supply and communication kit.
The Emergency Power Kit is equipped with components essential for charging small communication devices like cell phones and lap tops, to stay connected during power outages. The portable kit contains:

A fully charged, sealed, lead-acid battery
Power inverter and connecting cables
A hand crank radio and light with a 120 decibel siren
Waterproof document bag
Designed with Plug n' Save's long-standing commitment to Earth-friendly renewable energy solutions, the Kit's battery can be recharged multiple times using solar add-ons and is also recyclable.
"Plug 'n Save continually seeks out new and innovative ways to provide accessible renewable energy for our customers," said Todd Ufferman, Director of Operations. "As part of that exploration, we saw a need that went beyond renewable energy – the need for easy, portable emergency energy to charge devices and stay in touch with the world in times of crisis."
ABOUT PLUG 'N SAVE ENERGY PRODUCTS
Plug 'n Save Energy Products is a San Diego based company that is committed to Deep Green products, operations, and practices. Environmental protection and social commitment are at the strategic center of the organization. The company believes in giving back and is an enthusiastic member of the 1% for the Planet Program. As part of that program, Plug 'n Save has committed to donating 1% of all sales to environmentally focused nonprofits.
For more information on the company please visit http://www.plugnsaveenergyproducts.com
For more information on the Emergency Power Kit visit: http://www.plugnsaveenergyproducts.com/emergency-power-kit
Or contact:
Bennet Newman
Director of Sales
bennet(at)pnsenergy(dot)com
Or
Todd Ufferman
Director of Operations
todd(at)pnsenergy(dot)com
###