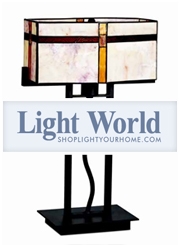 Light World's entrance into the eCommerce market will be accompanied by a new and exciting look to its base of operations in Trevose
Trevose, PA (PRWEB) July 28, 2011
Light World, a provider of lighting and home décor products in the Bucks and Montgomery county areas, has launched an online shopping program from its 13,000 square foot showroom and warehouse in Trevose, PA. Light World intends to use its extensive facility as a base to provide indoor lighting fixtures, outdoor lighting fixtures, lamps, ceiling fans and home décor items to the broad market of internet shoppers.
"We're excited about this new approach to our business" said Light World's owner and President, Joy Thomas Martosella. "Through the outlet of ShopLightYourHome.com, we plan to use the technology of the internet to expand Light World's markets, provide greater product selection to our customers and continue to emphasize good customer service", she added.
Expanding into the eCommerce arena is a logical stop for trusted businesses like Light World. More and more people are changing their shopping habits in an effort to capitalize on the convenience of online shopping. When it comes to shopping online for lighting fixtures and home décor items, the key is to find what you want with relative ease. Between the eCommerce store and the brick and mortar location in Trevose, PA, Light World provides shoppers with many choices.
Light World is a member of LIGHTING ONE, a co-op of lighting showrooms across the country. The association gives it the most competitive pricing with most manufacturers as well as access to private label product, exclusive to its showroom.
"Light World's entrance into the eCommerce market will be accompanied by a new and exciting look to its base of operations in Trevose", Martosella continued. "With the complete re-merchandising of our showroom, new signage to our large stand-alone building, and the addition of an eco-friendly product line, Light World is prepared to aggressively compete in what is an entirely new and different business environment."
###