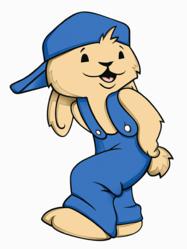 We are proud to collaborate with Sammy Rabbit and It's a Habit in sponsoring this innovative money management tool for families to enjoy for free," explained MyMoneyEd.org founder, and consumer finance expert Dr. Robert D. Manning.
Rochester, New York (PRWEB) July 28, 2011
Sammy Rabbit's first animated music video, S-A-V-E, has families and personal finance experts going gaga! Unlike Lady Gaga's controversial American Idol appearance, Sammy Rabbit's performance is well suited for children of all ages. This visually engaging video features colorful imagery set to a gospel style sing-and-clap-along song that cleverly inspires children and their families to start saving their money.
An infectious and energizing approach to what is typically viewed as a boring topic--financial education—this one minute and forty second video presents several important ideas for saving money. These include: (1) reaching goals and making dreams come true whether saving for a bicycle or going to college; (2) saving for unexpected emergencies; (3) enabling us to assist others in need (4) helping us obtain both our wants and needs; (5) encouraging our savings to grow and compound; and (6) offering more personal freedom. For all these reasons, the video's star--Sammy Rabbit—emphasizes that saving is a smart lifestyle choice that makes us strong and happy.
According to It's a Habit Company, Inc. (IAHC) founder and award winning children author, Sam X Renick, the response to the video has been "incredible… "We were particularly delighted with the Facebook posting of bestselling personal finance author David Bach, the Automatic Millionaire, who declared "I Love it. It is awesome!"
SAVE is just one of over twenty songs that IAHC has produced in assembling one of the world's largest audio collections of financial education and character building music that includes Big Old Dream, Rainy Day, and Anyone Can be Rich. The company has plans for over 50 more songs including three currently in production: Fired Up, Ready to Go, Tortillas are Great, and Dance and Soar.
"We are proud to collaborate with Sammy Rabbit and It's a Habit in sponsoring this innovative money management tool for families to enjoy for free," explained MyMoneyEd.org founder, and consumer finance expert Dr. Robert D. Manning. "It is crucial to involve parents, grandparents, and other family members to discuss as early as possible the importance of smart money habits and related lifestyle choices. Sammy Rabbit songs and stories make this challenge so much more fun and easy to accomplish."
View SAVE video at http://www.youtube.com/user/itsahabitonline. The song SAVE, featured on the video, can be found on the two disc audio CD set titled Sammy's Secret, Dream and Discovery available at our website. This award-winning compilation has already received national recognition for encouraging Children to Save and Invest.
About MyMoneyEd.org
Founded by Dr. Robert D. Manning, one of the nation's leading consumer financial scholars and author of CREDIT CARD NATION (http://www.creditcardnation.com), this path breaking consumer empowerment program is based on his patent-pending, RDR net-cash flow financial tools and education programs. You can learn more about MyMoneyEd.org and its mission at: http://www.mymoneyed.org
About It's a Habit and Sammy Rabbit!
The Los Angeles-based company was founded in 2001 by financial education innovator and award winning social entrepreneur Sam X Renick. It is a global leader in live, interactive family financial education programming based on its main character, Sammy 'the get in the habit' Rabbit.
The mission of IAHC is to provide children, families, and interested organizations with strategic tools that encourage good personal habits, especially saving money and reading. By using original stories and songs from one of the world's largest audio financial education libraries, together with catchy slogans like "Saving is a Great Habit," and "From Every Dollar, Save A Dime," children are encouraged to take a dull and daunting subject and turn it into a fun, self-empowering life lesson.
Renick and his team are internationally recognized for their contributions to increasing financial awareness in the minds of both children and adults. They have received numerous awards including a 2009 Induction onto the Loyola Marymount University "Entrepreneurs Wall of Honor" as well as the prestigious California Jumpstart Coalition Leadership Award in 2007 for excellence in financial education. Additionally, It's a Habit has earned the unique distinction of having its financial education products win awards on three different levels: High School, University, and Corporate.
You can learn more about IAHC and its mission at: http://www.itsahabit.com
###