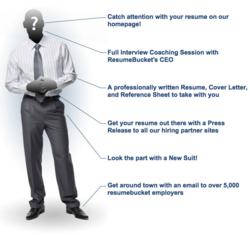 We all sat down to brainstorm what we could do for our millionth user, and we all agreed we wanted to do something big - Ted Hekman, CEO
Los Angeles, CA (PRWEB) July 27, 2011
ResumeBucket.com, the fastest growing free online resume resource, marks the milestone of their one-millionth user with one of the most ambitious contests the Internet has ever seen.
The contest aims to offer one winner the ultimate prize from a career-centric website – a job.
"We all sat down to brainstorm what we could do for our millionth user, and we all agreed we wanted to do something big, " says CEO, Ted Hekman. "In the end, we looked at what our users were saying, and it was simple and clear. They wanted employment."
Citing the legal and technical impossibilities of actually providing a job to a contest winner, ResumeBucket put together a prize-package that comes as close to delivering an actual job as possible. The prize-package includes:

New suit or professional outfit to wear for interviews
Winner's resume will be featured on the homepage of ResumeBucket.com, which is seen by hundreds of thousands of visitors each month.
Interview coaching session with ResumeBucket's CEO Ted Hekman, a 10-year veteran in the hiring and recruitment industry.
A professionally written resume, cover letter, and reference sheet.
A press release will be sent to all ResumeBucket's hiring partners.
A special email will be sent to all 5,000 of the companies signed up to ResumeBucket.com as employers.
Any user of ResumeBucket is eligible up until the site reaches one million users, at which time a user will be randomly selected from the entrants. To enter, simply enter your ResumeBucket resume URL at their contest page:
http://www.resumebucket.com/promotion
ResumeBucket.com was founded in 2007 by a small team of recruitment industry veterans, programmers, and designers. The need for resumes to jump from paper to the Internet was an obvious necessity to the job hunter, and the ResumeBucket team knew the best way to accomplish this goal.
The website has since broadened its features to include a robust job search engine, sample resume database, and education portal. Their one million users can also rub elbows with some of ResumeBucket's most notable company accounts including NetFlix, Dell, AllState, LG, and Ralph Lauren.
# # #