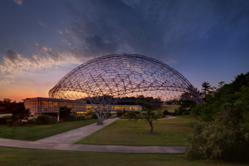 We're proud to be the stewards of this remarkable complex. It ... is as beautiful, functional and inspiring today as it was the day it opened in 1959.
Materials Park, OH (PRWEB) July 28, 2011
A geodesic-domed gem of American Modern architecture near Cleveland, Ohio, is proudly proving that the great buildings of the nation's mid-20th century can be futuristic and historic at the same time.
The headquarters of ASM International, a global advanced-materials professional association, is stunningly space-aged: 50,000 square feet of sleek steel-and-glass office space in a sweeping semicircular arc, spanned by a soaring, 10-story-tall dome of aluminum tubing designed by Modernist icon Buckminster Fuller.
Yet the 52-year-old complex, called Materials Park, is also on the National Register of Historic Places. That distinction enabled ASM to secure $2 million in state and federal historic-preservation tax credits and use them to help fund a $6 million, 18-month renovation. Now reaching completion, the overhaul ensures the complex will retain its dynamism and visionary relevance through its second half-century of life, says ASM Managing Director Stan Theobald.
"We're so proud to be the stewards of this remarkable complex," said Theobald. "It epitomizes the optimistic vision of one of America's greatest eras – and yet it is as beautiful, functional and inspiring today as it was the day it opened in 1959."
ASM will officially unveil the results to about 250 dignitaries and other guests at a rededication gala on Saturday, Aug. 6.
Materials Park is in Geauga County, about 20 miles east of Cleveland.
The facility's revitalization and use of National Register-facilitated tax credits may be a model for other aging, midcentury Modernist landmarks, said Cleveland preservationist consultant Michael Chesler, president of The Chesler Group. His firm is managing the project.
The tradeoff is some red tape: The National Parks Service, which administers the National Register and its requirements, insists that renovated buildings retain their original architectural character and critical original materials.
So Materials Park could re-seal its drafty envelope of single-pane glass, but couldn't replace those panes with state-of-the-art, energy-efficient multi-pane windows, explained ASM spokesman Joseph Zion. On the other hand, the requirements inspired glorious restorations of details including "floating" stainless-steel staircases suspended from the ceiling on glimmering rods, and textured-copper walls long hidden behind regrettable wallcoverings, Zion said.
The original "green" roof covering several thousand square feet of the office building – believed to be the first green roof in Ohio – is also being restored.
The dome, whose 65,000 pieces stretch across a 250-foot diameter, is the largest open-work geodesic dome in the world. It remains in such fine shape that it needed no restoration, Chesler said.
An unexpected bonus in the restoration process was the rediscovery of seven etched-metal murals by innovative midcentury master Nikos Bel-Jon. Those works, lovingly revived and shielded behind museum-quality glass, now grace ASM's interior walls.
The lushly landscaped grounds, and a "mineral garden" with ores and earthen samples representing 66 different materials used in Materials Park's construction, are open to the public. The building itself is not, except for meeting rooms available for conferences and special rental, Zion said.
Dimit Architects of Lakewood, Ohio, is the architect of record.
ASM International serves materials professionals, nontechnical personnel, and managers worldwide by providing high-quality materials information, education and training, networking opportunities, and professional development resources in cost-effective and user-friendly formats. ASM is where materials users, producers, and manufacturers converge to do business.
# # #