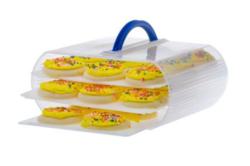 I just recently purchased your bakers sto n go and I have to say I really like it. I use it for those types of cookies that can not be stacked on top of each another. Thank you.
Fort Lauderdale, FL (PRWEB) July 28, 2011
Attention bakers, party-planners, caterers and soccer moms: Baker's Sto 'N Go, an easy-to-use baked goods carrying case, is announcing the launch of its new, super user-friendly website. The Sto 'N Go product, launched by stay-at-home mom Angela Nardis-Horevitz in 2007, will now be getting the increased attention it deserves. New website features include a testimonial page, a Frequently Asked Questions (FAQ) section, and links to Facebook and Twitter.
"I invented the Sto 'N Go after showing up at parties with foods I had spent hours making, smashed beyond recognition," says Horevitz. "I wanted to invent a product that could transport not just baked goods, but any food I was serving to a group. As a busy mom, my hands were always full of gear, so it was hard to balance trays of food as well."
Thankfully, Horevitz's idea successfully turned into a reality – and then some. The product is BPA-free and proudly made in the U.S.A., both uncommon with reusable plastic ware. She has also been certified by the WBENC (Women's Business Enterprise National Council).
But it doesn't stop there. Baker's Sto 'N Go won "Best Cookie Storage" in Real Simple magazine and was featured as one of "Paula's Picks" in the publication Cooking with Paula Deen. The Sto 'N Go has been spotlighted on the Home Shopping Network, QVC, and NBC's South Florida Today Show with Trina Robinson.
The site and social media upgrades will only serve to further enhance the company's well-merited notoriety and increase the media's interest in this unique and highly useful product.
About Baker's Sto 'N Go:
Stay-at-home mom Angela Horevitz launched Baker's Sto 'N Go in April, 2007. It is a BPA-free food storage and transport system, made in the U.S.A.
Contact Information:
Angela Nardis-Horevitz, Owner
Nardis Enterprises, LLC d/b/a Baker's Sto 'N Go
(954) 529-0691 http://www.bakersstongo.com
# # #