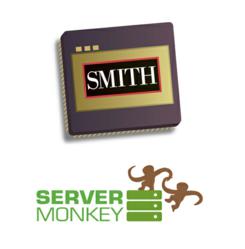 We have the knowledge and resources to make a difference, and believe that taking a strong stance against e-waste is the right thing to do.
Houston, TX (PRWEB) July 27, 2011
Smith & Associates, a Houston based leader in the electronics distribution market, and ServerMonkey, a provider of new and refurbished servers and networking equipment, will together host "E-Waste Days" in the Houston metropolitan area to encourage the recycling and safe disposal of used electronic items.
Smith and ServerMonkey's e-waste recycling days will be a free service to communities, organizations and businesses in the greater Houston area, with all costs, fees and labor donated by the two companies. Hosted at venues such as community pools or office parks, representatives from the companies will collect, load and transport all e-waste to be recycled or remarketed. Promotional materials such as flyers and newsletter articles will also be provided to generate interest and encourage participation in the events.
"Our mission is to divert as much e-waste from landfills as possible through recycling, reuse and safe disposal, and to ensure that electronics such as laptops, desktops, copiers and peripherals are disposed of in a secure and environmentally friendly manner," said Craig Simons, Chief Sustainability Officer of ServerMonkey. "We have the knowledge and resources to make a difference, and believe that taking a strong stance against e-waste is the right thing to do."
Kirk Wehby, Smith's Vice President of Operations, said that in addition to recycling e-waste properly, information security will play a key role in the execution of the e-waste days.
"Our customers' information security is extremely important to them and to us, and we have strict guidelines in place to ensure that all information contained on hard drives is wiped or destroyed before the donated hardware is recycled," Wehby said. "Using our in-house data wipe machines, we perform a 3-pass data wipe to permanently erase data from hard drives to Department of Defense standards."
If your company, community or organization would like to schedule an e-waste day in the Houston area or would like more information, please call Scott Michael Flowers at 713-430-2182.
About Smith & Associates - Founded in Houston in 1984, Smith & Associates (http://www.smithweb.com) is a leader in the independent distribution of semiconductors and electronic components to electronics and high-tech manufacturers. Smith offers shortage sourcing for commodity and obsolete parts, innovative purchasing and inventory management solutions, redistribution of excess inventory, and component stocking for warranty and repair programs.
A privately held company, Smith & Associates employs more than 300 people worldwide, with annual revenue in excess of US$400 million. Smith's regional hubs in Houston, Hong Kong and Amsterdam are ISO certified and IDEA compliant. In addition, sales and purchasing offices are located in Silicon Valley, Barcelona, Guadalajara, New York, Denver, Shanghai, Shenzhen, Seoul, Singapore and Taipei. For more information or to reach a Smith representative 24 hours a day, please call: 1.800.HOUSTON or +1 713.430.3000
About ServerMonkey - Located in Houston, TX, ServerMonkey (http://www.servermonkey.com) stocks and delivers new and refurbished servers and networking equipment. With a blend of low prices, high quality and exceptional service, ServerMonkey offers a unique opportunity for corporate IT groups to economize without compromising.
ServerMonkey specializes in refurbished servers and networking equipment, stocking brands like HP, Dell, IBM, Sun and Cisco. ServerMonkey saves IT equipment buyers money by stocking the equipment they are looking for – equipment that's compatible with current systems. And ServerMonkey's prices are lower than anywhere else in the market. Quite simply, ServerMonkey offers the best IT equipment at the best prices.
# # #
For more information, contact:
Mark Bollinger
Smith & Associates
V.P. of Marketing +1 713.430.3000
Scott Michael Flowers, CEO
ServerMonkey.com
1-855-4SRVERS