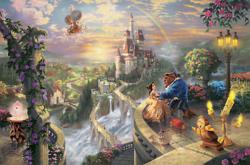 "Beauty and the Beast Falling in Love," is the sixth release in Kinkade's 12-piece Disney Dreams Collection.
San Francisco, CA (PRWEB) July 28, 2011
World Wide Art, Inc., a company that specializes in limited editions by today's top artists, is now offering Thomas Kinkade's latest Disney Dreams piece to the public.
The painting, titled "Beauty and the Beast Falling in Love," is the sixth release in Kinkade's 12-piece Disney Dreams Collection. The artist, known as the "painter of light," is America's most collected living painter.
"We are proud to offer the latest of Kinkade's work in the Disney Dreams Collection," said David Wilfong, spokesperson for World Wide Art. "This collection celebrates great moments from Disney films, in a narrative form that really tell the entire story of a movie in a single image."
The painting features many of the characters from Disney's Beauty and the Beast, including Belle's father, Maurice, an eccentric inventor who soars overhead in his homemade flying machine. In the distance appears the village that is a central setting for much of the film, as well as the evil Gaston on the left leading a parade of angry townspeople in search of the Beast.
The main subject, however, is the magical moment when the Beast, whose true identity is a charming prince, discovers love in the form of the beautiful Belle. And, as in the movie, the characters of Cogsworth, Lumiere, Mrs. Potts and Chip are featured prominently in the foreground.
"In addition to Kinkade's many other releases, this Disney Dreams Collection painting is sure to be that perfect piece to place over the fireplace," Wilfong said. "This is an excellent addition to our selection on World-Wide-Art.com."
Kinkade emphasizes simple pleasures and inspirational messages through his Disney paintings. As a devout Christian, the artist uses his gift as a vehicle to communicate and spread inherent life-affirming values. In addition to his latest work, his other Disney Dreams Collection paintings include "Snow White Discovers the Cottage," "Pinocchio Wishes Upon a Star," "Tinkerbell and Peter Pan Fly to Neverland," "Cinderella Wishes Upon a Dream" and "Bambi's First Year."
To learn more, visit http://www.world-wide-art.com.
###