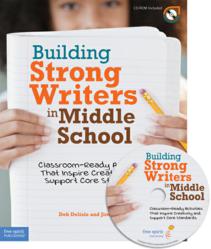 The art of writing is one of the most essential journeys we can share with our students.
Minneapolis, MN (PRWEB) July 27, 2011
From author-educator team Deb and Jim Delisle comes Building Strong Writers in Middle School: Classroom-Ready Activities That Inspire Creativity and Support Core Standards (Free Spirit Publishing, $32.99), a new language arts book for teachers. The activities in Building Strong Writers in Middle School invite students to look inward for their subject matter and turn their interests into writing assignments that align with Common Core State Standards for English Language Arts. Students are empowered to write about what matters to them—their identities, their goals and dreams, their struggles, their relationships.
"The art of writing is one of the most essential journeys we can share with our students and guide them to master," the authors tell teachers. "Time and again, we have seen students respond in absolutely remarkable ways to assignments that feel personal to them. Not only have our students impressed us with their work, they often have astounded themselves with their creations."
Tapping into students' desire to express themselves is one part of building strong writers, according to the Delisles. The activities in the book are also designed to help students develop a love and understanding of the longevity of the written word. Each activity contains four elements: open-endedness to let students express themselves in unique ways, a forum for personal expression, integration of cognitive knowledge and emotional sensation, and fun! The twenty-four classroom-ready lessons are divided into four sections: "Writing to Get to Know Each Other," "Writing to Understand Ourselves," "Writing to Make a Difference," and "Writing to Create Art."
This teacher-created content has been developed and tested in public and private classrooms with students of varying abilities. Building Strong Writers in Middle School contains step-by-step directions with learning objectives, dozens of student stories and writing samples, and ideas for extending activities for use with families and in the community. Also included is a CD-ROM with reproducible handouts from the book.
Building Strong Writers in Middle School can help inspire students to explore their personal thoughts and beliefs while building proficiency in core language arts concepts. With writing now being required across the curriculum, teaching language arts at the middle school level is more important than ever.
ISBN 978-1-57542-370-8 / $32.99 / Softcover / 176 pp.
8½" x 11" / for teachers of grades 4–8 / includes CD-ROM
About the authors
Deb Delisle has been an educator for more than thirty years and most recently served as Ohio's State Superintendent of Education. Prior to that, she was a school superintendent, a curriculum director, an elementary principal, a teacher of primary and middle school kids, and a K–12 gifted coordinator. She serves on the Executive Committee of the Council of Chief State School Officers and is coauthor of Growing Good Kids and numerous articles on gifted child education and reform-based education.
Jim Delisle, Ph.D., has taught gifted children and those who work on their behalf for more than thirty years, including twenty-five years as a professor of special education at Kent State University. The author of more than 250 articles and fourteen books, he is a frequent presenter on gifted children's intellectual and emotional growth.
Deb and Jim live in South Carolina.
About Free Spirit Publishing
Headquartered in Minneapolis, Minnesota, Free Spirit is the leading publisher of learning tools that support young people's social-emotional health and their educational needs. Free Spirit's mission is to help children and teens think for themselves, succeed in life, and make a difference in the world.
###