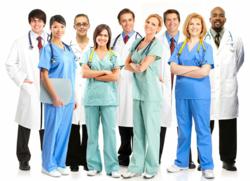 Medical Membership Plans is an innovative new nationwide system that provides quality direct primary, urgent and preventative medical care through 1,100 private walk-in medical centers for as little as $84 a month.
Irvine, CA (PRWEB) July 28, 2011
While many companies are thinking about dropping their employees' health care benefits due to escalating costs, an innovative new approach, called Medical Membership Plans, will make it possible to offer workers and their families direct medical care for about the cost of a daily Starbucks coffee.
"By joining Medical Membership Plans," says Robert Schumacher, the organization's executive director, "one monthly fee will provide an individual and their family with primary, urgent and preventative direct medical care through a national network of about 1,100 private health care centers."
"Medical Membership Plans is not insurance, nor a substitute for Insurance," Mr. Schumacher points out. "It does not cover catastrophic illness or severe accidents that require hospitalization or specialists, although it does offer significant discounts for these services."
"What Medical Membership Plans provides," continues Mr. Schumacher, is walk-in access to neighborhood medical centers that diagnose and treat illnesses and injuries that people typically go to family doctors, general practitioners, clinics or emergency rooms, for non-emergency care. "
This includes diagnosis and treatment of illnesses and injuries such as: work related injuries; annual, school and DOT physical exams; vaccinations and flu shots; cold and flu; strep throat; allergies; sprains and strains; back pain; urinary tract infections; minor burns; sinus, ear and eye infections; bronchitis; travel health planning and wellness programs.
Depending on the local health care centers onsite facilities, laboratory and imaging services may be included at no additional cost.
NO CO-PAYMENTS, NO DEDUCTIBLES, AND NO EXCLUSIONS FOR PRE-EXISTING CONDITIONS
"Unlike health insurance, there are no co-payments, no deductibles and no exclusions for pre-existing conditions with Medical Membership Plans," says Mr. Schumacher. "Everyone over the age of six months is eligible and coverage is guaranteed to issue."
The monthly fee is $84 for an individual and $99 for a family. This includes the member, spouse and their children up to the age of 26. If an employer contributes at least half the monthly fee, for example $42, then workers pay $42 for themselves and for their immediate families to be covered.
The monthly fee is less than the average cost for just one visit to a family practice physician according to the U.S. Department of Health & Human Services. Yet it covers an multiple monthly visits for illnesses and injuries for all members of a covered family.
1,100 PRIVATE HEALTH CARE CENTERS TREAT MEMBERS ON A "WALK-IN" BASIS
"Just as important as affordability, is simply having access to primary, urgent and preventative care," says Mr. Schumacher who quotes a recent Massachusetts study.
"A shortage of primary-care physicians in Massachusetts means that some patients must wait up to 48 days for an appointment . . . additionally, 50 percent of Massachusetts' primary-care physicians are not accepting new patients."
To deliver quality care on a national basis, Medical Membership Plans is an affiliate of My Community Care that partners with about 1,100 convenient and urgent care private health care centers throughout the country.
"For plan members, no appointment is necessary. They are treated for injuries or illnesses on a walk-in basis," says Mr. Schumacher. "Non-urgent injuries and illnesses are treated within the normal flow of patients to help reduce wait times. Members who need exams that require additional paperwork and tests are encouraged to schedule an appointment."
Independent studies and the media have praised the neighborhood health care centers for the quality of care provided and for patient satisfaction. TIME Magazine, for example, reported that:
"All across the country, private health care centers, because of convenience, quality of care and affordability, are challenging conventional doctor office practices and overcrowded, costly emergency rooms . . .with 50 million Americans lacking health insurance and family budgets collapsing under the weight of medical costs, what's not to like about the clinics? . . . If the results (of a Harvard study) are any indication, the next time you have a routine medical need, you should probably make haste to a clinic."
ALSO INCLUDED: DISCOUNTS FOR HOSPITALIZATION, SPECIALISTS AND MAJOR MEDICAL CARE
For major medical conditions, hospitalization and specialists, members also receive substantial cost savings through the nationwide Galaxy Healthcare Network of over 400,000 physicians, 2,700 hospitals and 47,000 ancillary providers.
Significant discounts are given for treatment and procedures beyond primary, urgent and preventative care. This includes medical specialists; hospitalization; diagnostic imaging and advanced radiologic procedures; physical therapy and chiropractic care.
Substantial cost savings are also available to members for prescription eyeglasses, contact lenses and Lasik surgery; as well as diabetes supplies and monitoring.
Other services, such as CallMD and a 24/7 Nurse Hotline are included at no additional costs
TAX INCENTIVES TO JOIN A MEDICAL MEMBERSHIP PLAN
Tax incentives are available for companies and its employees that participate in a medical membership plan. In general, businesses can usually deduct 100% of the premiums they pay on qualifying group health plans. By offering a medical membership plan as part of a total compensation package, employers may be able to reduce payroll taxes. Participating employees can pay their portion of the monthly premium with pre-tax dollars.
Individuals and companies interested in learning more about Medical Membership Plans are encouraged to visit its website at MMplans.com, as well as those who want to market the new service.
ABOUT MEDICAL MEMBERSHIP PLANS
Medical Membership Plans, an affiliate of My Community Care, provides individuals and families, businesses and associations, with quality direct primary, urgent and preventative medical care through about 1,100 conveniently located partner private health care centers for one astonishingly affordable monthly fee. Its website is at MMplans.com.
###