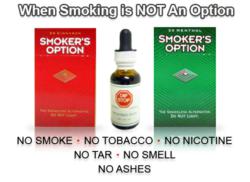 Everyone who has tried to give up smoking has faced the full gamut of demons that can stop them from making a clean break.
Montgomery, AL (PRWEB) July 27, 2011
DipStop™ Inc., a worldwide leader in the manufacture and distribution of safe alternatives to smokeless tobacco, introduced new products today designed to help smokers Stop Smoking in Three Days.
Everyone who has tried to give up smoking has faced the full gamut of demons that can stop them from making a clean break. There are so many that it makes smoking cessation seem like an unattainable goal. It really isn't, though, for those who are determined overcome the barriers and seek assistance in doing so.
Physical barriers – The most critical barriers reported by most smokers are the symptoms associated with nicotine withdrawal. One study by the University of Wisconsin reported that nearly half of all smokers interviewed indicated that the experience of withdrawal symptoms (e.g. irritability, sleep/appetite disruption, anxiety, difficulty concentrating, restlessness, depressed mood) would prevent them from successfully quitting.
Mental barriers – One of the more common barriers smokers report is an oral fixation on cigarettes, a desire to mimic the activities associated with smoking. Having a cigarette in hand or between the lips is a comforting habit in social situations or during activities which cue the smoking response, such as after meals, while driving, or during breaks at work.
DipStop™ introduces "Stop Smoking in Three days". While recognizing that the primary ingredient in any "stop smoking" program is the smoker's desire to quit, Dipstop provides two key components that help make the process a lot easier and offer the smoker a much higher probability of success in their effort to kick cigarette addiction.
The primary component of the program is an herbal compound designed to ease the symptoms of nicotine withdrawal. Nico-Free Plus is a natural herbal supplement that helps maintain body health as users fight addiction to nicotine. Originally formulated in 1992 as part of the DipStop™ smokeless tobacco cessation program, Nico-Free Plus helps clear nicotine from the system, while calming the stomach and nerves. It is important to note that smokeless tobacco users generally ingest up to five times the amount of nicotine daily as the average smoker, therefore their addiction to nicotine is much stronger.
The second component of the program is the "Smoker's Option", a no nicotine, no tobacco, no smoke, and no vapor substitute for cigarettes. Available in menthol and cinnamon flavors, Smokers Option gives users the familiar and comforting "feel" of a cigarette during social situations or activities that trigger the smoking response.
DipStop™ Inc. was founded in 1991 by Russell Ralston to combat the critical health problems associated with smokeless tobacco by helping users break the nicotine habit. Family owned and operated in Selma, Alabama, DipStop™ is one of several business units dedicated to the development and introduction of innovative products created to improve the health and well-being of its global customer base. Initially offered in wintergreen, cinnamon, and mint flavors, BaccOff™ straight non-tobacco chew was introduced in 1993 as the first chewing tobacco alternative with the taste, texture, and *spitability of real tobacco snuff.
*spitability - The wherewithal to expel a reasonable amount of brownish liquid from between the lips with sufficient force to roll small bugs, stir up dust, and send dogs and cats running for cover.
###