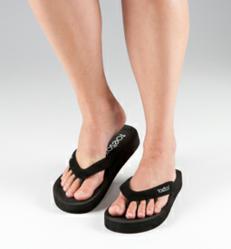 Vista, CA (PRWEB) July 29, 2011
California-based socks company, ToeSox (http://www.toesox.com), today announced the launch of their brand new Five Toe Sandals, scheduled to launch in August. Widely known for their toe socks with grip, ToeSox wanted to strengthen the company's mission to support whole body wellness by creating high quality products that promote foot health.
There is an increased awareness surrounding the matters of foot health. According to foot.com, three out of four Americans experience foot health problems in their lifetime. Much of these issues, like bunions, hammertoes and corns, arise from wearing ill-fitting shoes. Many foot ailments are caused by poor toe alignment and poor circulation. The alignment of the feet and the distribution of weight through them affect the position, function and flow of energy through the knees, hips, back and shoulders. Toe socks allow for this natural alignment by encouraging toes to spread which increases blood circulation and strengthens muscles in the feet. Stronger, aligned feet can better support the body and its movement.
Applying the toe socks principle, ToeSox created the Five Toe Sandals with four posts to create divisions between each toe to aid in this proper alignment. Five Toe Sandals secure each toe providing improved stability and provide a cue for toes to spread to help the feet strengthen.
Five Toe Sandals by ToeSox will first launch with two styles – the Yogini and Yogini Wedge. The Yogini Five Toe Sandal is a classic summer sandal that will come in five colors and help create strong "yogi" toes. The Wedge (in black only) has a 1.75 inch lift and thinner strap for fashion and health benefits.
ToeSox, Inc. was founded in 2004 with the launch of its patented Non-Slip Grip toe socks, and has since grown from a home-based business to selling various styles nationwide and to 36 countries. Visit ToeSox at http://www.toesox.com or call (877)486-3769.
###