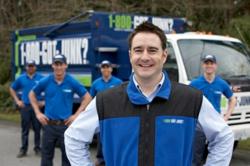 Owner/operator provides all of the systems and support of a traditional franchise, but in a smaller territory, and for less cost.
Vancouver, BC (PRWEB) July 27, 2011
In a move designed to broaden the company's business footprint and present franchise opportunities to a demanding new breed of entrepreneur – the owner/operator – 1-800-GOT-JUNK? has launched a new franchise model. The new owner/operator model appeals to people who want to be a part of a successful franchise business, but are looking to operate in smaller, lower-density markets than the traditional model has serviced. It's a solution for wannabe entrepreneurs who have a passion for business, but perhaps not the inclination to start-up far from home, or the budget to fund a large scale business. Owner/operator provides all of the systems and support of a traditional franchise, but in a smaller territory.
"It's a great solution for entrepreneurs who love daily operations. They may work in the trucks alongside their employees. They can earn a great living in a smaller market doing what they love, while still benefiting from the opportunity to really grow and build the brand in that market," says 1-800-GOT-JUNK? Founder and CEO, Brian Scudamore.
Historically the company's franchise development team fields a lot of inquiries from interested parties for territory that has long since been snapped up. "The great thing about owner/operator is it doesn't just provide more selection for those who want in on this franchise opportunity, it also puts our brand at the doorstep of a massive part of the population we weren't able to service in the past", explains Scudamore.
The key differences between owner/operator and traditional franchises are the price and size of the franchise and the level of resources required to run and grow the business. A traditional franchise is in excess of 10 territories of 62.5K people (625,000 plus population), with a minimum investment in territory fees of $66K. The traditional franchise starts off with a $12K investment in marketing and 2 trucks in operation. Under the owner/operator model a franchise partner purchases six to 10 territories (375,000 to 625,000 population) at a cost of between $21K - $33K. The marketing spend is $6K and the owner starts off with one truck and may act as primary operator in that truck. Owner/operators are not required to set up an office, a brilliant marketing ploy, as the lack of a bricks and mortar location means the rolling billboard trucks are always marketing in the community.
All 1-800-GOT-JUNK? franchise partners enjoy the benefits of a global call center; in-house intranet support for booking jobs, running reports, and accounting; marketing and PR support; and field support and coaching.
About 1-800-GOT-JUNK?
1-800-GOT-JUNK? is pioneering an industry that is helping residents and businesses remove junk and regain space. Whether it's a pile of household junk in the garage or a warehouse full of office furnishings, 1-800-GOT-JUNK? removes it for you, making the ordinary business of junk removal exceptional. We are passionate about recycling and donating to charity. 1-800-GOT-JUNK? was founded in 1989 and now operates throughout North America and Australia.
For more information, please call:
Tania Venn
Director, PR
866.483.7042
Tania(dot)venn(at)1800gotjunk(dot)com
###