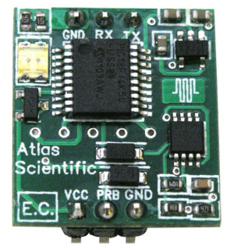 Rockland County, NY (PRWEB) July 28, 2011
The days when companies could secretly dump pollutants into rivers has come to an end. Groundbreaking new technology developed by Atlas Scientific now makes it possible for towns and municipalities to embedded thousands of sensors into local rivers, estuaries and reservoirs, to actively monitor their health in real time. Each one of these sensors are no bigger that your thumbnail and costs a fraction of the price of traditional pollution monitoring equipment.
This new technology removes the human element and allows computers to read the data from thousands of sensors networked together. This data could be used to create a detailed map of water quality; updated as frequently as every 5 seconds. Traditional pollution monitoring required someone to go into the field and take water samples. However, who was monitoring the river at 3:00am on a Tuesday in the middle of a rainstorm? No one.
pH, ORP, Dissolved Oxygen, Total Dissolved Solids, Salinity, Conductivity, temperature, read by a computer and transmitted anywhere on earth in real time.
Atlas Scientific
Biology-Technology