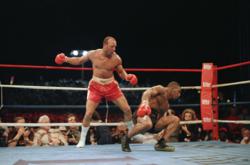 "I spent 18 years dishing out pain in the boxing ring now I am trying to help people get out of pain,"
Oklamoma City, OK (PRWEB) July 29, 2011
The Circle of Champions is a group of World Champion Boxers that are endorsing Real Time Pain Relief because of the dramatic impact it has had on their bodies. Heavy Weight Champion James "Bonecrusher" Smith stated that, "After 18 years of running miles and miles every day to stay in shape my knees were so bad I could hardly stand, a friend shared Real Time Pain Relief with me and when I rubbed it on … the pain was gone and within a couple of days much of my range of motion was restored and I was able to walk pain free for the first time in years" I am thrilled to lend my name and time to promote such a life changing product."
Real Time Pain Relief F is a natural, homeopathic "rub on" product that knocks out pain within minutes! It has been successfully marketed in the USA and around the world for 13 years; it relieves pain, reduces inflammation and revitalizes tissue. Thousands of people suffering from chronic pain i.e., arthritis, back pain, neck muscle and joint pain are now living a pain-free life because of Real Time Pain Relief!
"Real Time Pain Relief is thrilled to have these great boxing champions endorse our revolutionary, topical pain relief product. What makes this extra special is that our 13 year old company does not pay spokespeople to endorse our product," says Tim Flatt, founder of Real Time Pain Relief. "These great champions are endorsing our product because it works!" added Flatt.
Real Time Pain Relief spokesperson, James "Bonecrusher" Smith, won the WBA Heavyweight Championship Belt in 1986 when he knocked out "Terrible" Tim Witherspoon in the first round at Madison Square Garden in New York. He holds a Bachelor's Degree from Shaw University, making him the first Heavyweight Champion to have graduated from college.
Bonercrusher was born in Magnolia, North Carolina and in 2007 he was inducted into the Carolina Boxing Hall of Fame. Bonecrusher currently lives in Myrtle Beach, South Carolina where he spends his times focusing on his business ventures and promoting his Champion for Kids Organization in Myrtle Beach South Carolina.
###