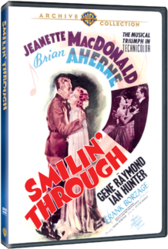 (PRWEB) July 28, 2011
Smilin' Through was filmed in gorgeous Technicolor and fine musical numbers supplement the 1941 music-filled melodrama directed by Frank Borzage. Smilin' Through centers on an orphaned girl (MacDonald) who falls in love with a handsome stranger (Raymond), only to find their romance threatened by a tragic connection between Raymond's father and MacDonald's late aunt. Brian Aherne also stars in the musical. Songs include the title tune, "Drink to Me Only with Thine Eyes," and the iconic song "Land of Hope and Glory," which was written by Sir Edward Elgar, and is known the world over as "Pomp and Circumstance," most often played at graduation ceremonies around the world.
Smilin' Through is a film Miss MacDonald made after Bitter Sweet (1940) and one of the eight MGM musicals she starred in with Nelson Eddy. The DVD also includes the original theatrical trailer.
Smilin' Through is being released through Movies Unlimited the same day as Bitter Sweet the 1940 musical starring Jeanette MacDonald and Nelson Eddy and follows previous exclusive MGM musical releases Naughty Marietta (the team's first movie together) and Sweethearts, their first in Technicolor.
Movies Unlimited is one of the world's leading DVD and Blu-ray retailers. The Philadelphia-based company publishes the annual Movies Unlimited DVD Catalog and sells films through MoviesUnlimited.com The company also publishes the Turner Classic Movies DVD Catalog. The company offers over 70,000 titles which are available by contacting Movies Unlimited by calling 1-800-4-MOVIES.
###