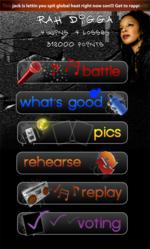 "Through the Straight Spittin' smartphone app, I believe it's possible for someone to eventually land a record deal." - Rah Digga
New York, NY (PRWEB) July 28, 2011
Veteran rapper and former First Lady of Busta Rhymes' Flipmode Squad Rah Digga and Appalachian Apps are proud to announce a new smartphone application that allows users to battle rap each other, the first of its kind for Android, iPhone, Blackberry, and Nokia. Users all over the world can create profiles, buy beat packages, and earn the chance to battle against bonafide rap celebrities.
Straight Spittin' is the only audio-based battle rap application that allows aspiring rappers to battle in either freestyle or written form, to select different beats, verse length, and the number of rounds. The application anticipates today's busy MC, giving them the option to schedule battles ahead of time, leave verses in their opponent's inbox or just hone their skills in rehearsal mode. One of the most exciting features of the application is the option for the public to vote for winners. As MC's win more battles, they advance from "Unsigned Hype" to "Gold" and eventually "Platinum" status, where they'll be scouted for global battle competitions.
According to Rah Digga, battle raps have and always will be an integral part of the hip-hop community. "As someone who prefers more aggressive rhyming, it's always refreshing to hear people rhyme like their lives depend on it," she explains. "Hearing battle raps can remind people of what a real lyricist should sound like...or not."
Having solidified her position in hip-hop as a gifted lyricist, Rah is now changing the world with her new app designed to give aspiring rappers a chance to show and prove themselves on a global stage at their convenience. Teaching aspiring rappers about the fundamentals of rapping and lyricism was the main catalyst for Rah's involvement with this application. She believes it's possible for someone to eventually get a record deal stemming from this app.
The application has been making great strides in the tech community. Straight Spittin' was recently awarded 1st place in AT&T's Open Call Contest and was 1st runner up in Microsoft's Fast Pitch Contest. The app is also currently a finalist in Nokia's $10M Calling All Innovators Contest.
Straight Spittin' is currently available for download from all smartphone app markets as well as the app's website http://straightspittin.com and the developer's website http://www.appalachianapps.com
About Rah Digga:
New Jersey native Rashia Fisher, better known as Rah Digga, first dedicated herself to rhyme in the mid-1990s, becoming part of the New York battle-rap scene. She soon acquired a reputation that caught the attention of Q-Tip, the outspoken member of A Tribe Called Quest, who introduced her to Busta Rhymes, then making her First Lady of Busta's Flipmode Squad. Since then, Digga has linked up with producer Nottz for her new album, Classic, via Raw Koncept Media Group. "I wasn't created by a label. I am a natural born talent that broke into the industry based on my ability to rhyme and that's what people will always expect from me."
About Appalachian Apps:
Appalachian Apps LLC is a software development company founded in 2009 which specializes in mobile technology. Our founding partners have more than 35 years combined experience in the wireless industry, and our full complement of graphics designers and programmers brings hundreds more in software development experience. It is our commitment to build innovative products and services that enable our customers to do more, and in new ways.
###