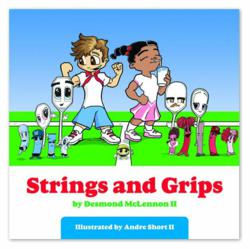 Excelovate has also launched a $1,000 scholarship, helping to increase access to tennis.
(PRWEB) July 27, 2011
On July 28, 2011 publisher Excelovate will launch their internationally anticipated children's tennis title Strings and Grips, written by tennis coach and author Desmond McLennon II. To celebrate, Excelovate will be giving away a free iPad every month.
Contestants simply need to log onto http://www.stringsngrips.com and enter for their chance to win.
While on the site visitors are encouraged to try Excelovate's free, new interactive tennis game, Rac Attack.
As a companion tool to the title Strings and Grips, Rac Attack allows players to run around the court, hit the ball, hear entertaining and sometimes shocking coach feedback, and see if they rank on the high-score list. "We have created several opportunities for people to 'get their tennis on'" says Excelovate CEO, McGowan.
Excelovate has also launched a $1,000 scholarship, helping to increase access to tennis.
Partial proceeds from the launch of Strings and Grips will be donated to Literacy Council York-Simcoe to promote family literacy.
Strings and Grips has already been profiled in prestigious publications such as Publisher's Weekly, Tennis Magazine, and on the International Tennis Federation website. This colorful tale of how strings and grips work together to play with the ball will become available for sale on August 1st 2011. Books are sold online at http://www.stringsngrips.com as well as on Amazon.com.
Books will also be available at the book launch being held on July 28, 2011 at The School Fine Dining in Unionville, Ontario, Canada. This free, catered launch will be held from 6:30pm – 9:30pm and provides an opportunity for people to have their photos taken with Strings and Grips characters and the author. Attendees will also have the opportunity to have their book signed, and to participate in interactive games and possibly win prizes.
Media are welcomed and people are encouraged to RSVP to info(at)excelovate(dot)com or by calling 647.987.9737.
Strings and Grips will also be sold at this year's Roger's Cup Tennis Tournament in Toronto, Ontario.
Author Desmond McLennon II is available for interviews, show appearances, and speaking engagements.
###